Editor's Note: This post was originally published in August 2022 and has since been expanded and revised for clarity.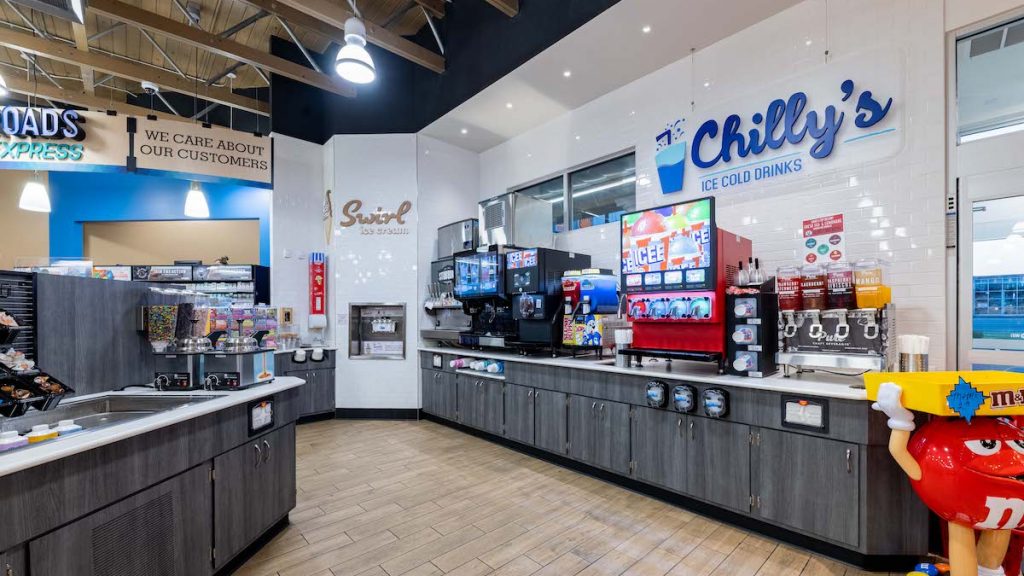 When you're launching a fleet of convenience stores or undertaking a grocery store renovation, saving time and money is essential. So is preserving customer loyalty. 
There are a lot of moving parts in a store remodel. You have to select the vendors for your new store design. You need to identify the companies that will manufacture your store decor, including displays, wall graphics, and retail signage. You also need to know who will install those interior elements. 
Even within the relatively small footprint of a convenience store, and especially for companies with past store renovation experience, the process can be daunting. 
When selecting vendors, price is almost always the number-one concern. Most purchasing departments are adept at shopping for the best deals. There's a natural inclination to choose vendors who can provide the best prices for drafting, decor production, retail signage fabrication, and installation. 
But are price-shopping and vendor-hopping really the best way to get the job done right the first time?
Store Remodeling Delays and Disruptions are Expensive
Store closures and construction disruptions are costly. Today's consumers have plenty of options, and the less downtime there is in your stores, the more likely you are to keep their business. 
When trying to get the most from a project budget, ordering from an offshore store fixtures manufacturer can seem like a budget-friendly strategy. Unfortunately, international supply chain disruptions are showing few signs of abating. 
That means your grand opening can be delayed while you wait (literally) for your ship to come in. 
Renovating a Store: Does it Take a Village? 
On the face of it, ordering decor, displays, and fixtures from multiple vendors can seem like a cost-conscious approach. Vendor A is willing to give you that sweet deal on signage, and Vendor B offers good low-cost options for store decor. You've found reputable general contractors in each of the cities where your stores will be relaunched. 
But purchasing is only the beginning. 
How will you track the arrival of the various pieces and parts?
Who's responsible for tracking them? The project manager, the purchasing manager, or the general contractor?
Where will the decor items be stored while awaiting installation?
How will the general contractor find what they need when it's time to install?
What happens when a decor item is back-ordered, damaged, or simply doesn't show up?
What if the measurements are off and that massive soffit graphic doesn't fit in all the stores?
When you consider the potential for chaos, it becomes obvious that the seemingly practical "it takes a village" approach to store renovation is full of needless complexity.  
One-stop store decor manufacturing in the U.S. is actually a budget-friendlier way to remodel stores.
Over its 50 years in business, King Retail Solutions has developed the capabilities to manage retail renovation projects from end to end. This "full service" single-vendor approach may sound more expensive than the "village", but at KRS it's not. 
Value engineering is always part of the process, not something that's done once an estimate exceeds budget. 
Advantages of Working with a One-Stop Retail Store Decor Company
You get exactly the decorations and fixtures you need for the physical plant. Brand colors are matched exactly.
You can work with KRS's talented in-house designers, or we'll fabricate the designs that you bring us.
You can select the best materials for the application. Is wood or metal better for that display case? Which is more durable? More affordable?
Your decor items will be inventoried and warehoused off-site. No managing deliveries, or losing boxes.
The store decor will be delivered and installed by an experienced crew trained in that process.
If anything is damaged, it's reproduced and replaced quickly. 
Expert Planning and Execution Aren't a Luxury
So you're ordering your store decor elements from a US company. You've consolidated your purchasing. What else will get your project across the finish line with your sanity intact?
Excellent project communication. 
We believe clients should have continuous visibility into milestones. (You shouldn't have to wait for a weekly progress report to learn about a problem.) You deserve daily updates and total, buck-stops-here accountability from your vendor. 
Multi-unit retail remodels are complex. We begin with a super-accurate, 3-D Site Survey of all locations to ensure that each decor element we manufacture will fit the specific store for which it was created. This also enables us to conduct virtual walk-throughs, which help keep everyone on the same page.
KRS uses a special software system to track every single deliverable and inventory item. Each client is assigned a dedicated project team with a single point of contact. You or your project manager won't be bombarded with messages from the "village."
A successful c-store or grocery store renovation is not just about getting the design right. It's about getting it done on time and preventing needless disruption for your employees and customers. It's about making it all work within your budget. 
And the pride of opening the doors to your updated, refreshed, and enticing new stores? Priceless. 
Ready for a renovation? Let's get started.
Frequently Asked Questions
What are the common pitfalls to avoid during a store renovation?
When embarking on a store renovation project, it's crucial to avoid several common pitfalls. First and foremost, inadequate planning can prove detrimental, potentially resulting in delays and budget overruns. To mitigate this, establish a detailed renovation plan that encompasses the budget, timeline, and assigned responsibilities. Furthermore, accurately estimating renovation costs is paramount; being realistic and having a contingency fund to account for unforeseen expenses is wise. Lastly, don't overlook permits and regulations, as ignoring them can lead to legal issues and complications. Ensuring you are well-informed about and compliant with all necessary permits and regulations is essential for a successful store renovation.
How can a one-stop retail décor company help streamline a grocery store remodel?
A one-stop retail decor company can significantly streamline a grocery store remodel. They offer a wide range of services, from design to installation, all under one roof, simplifying the process. This streamlining not only saves time but can also lead to cost efficiencies. With experienced designers and project managers on hand, they ensure a cohesive and efficient remodel that aligns with your store's branding and budget. Plus, their expertise in customization and sustainability can help create a unique and environmentally responsible shopping experience. Choosing a one-stop solution can simplify the remodel process and enhance the overall outcome for your grocery store.
What is value engineering in the context of a grocery store remodel?
Value engineering, in the context of a grocery store remodel, is a methodical strategy to optimize the project's design and construction while minimizing costs. Its primary objective is to reduce project expenses without compromising quality or functionality. This approach involves creative problem-solving, considering long-term operational costs, and prioritizing cost-saving efforts on elements that most impact the project's success. Collaboration among stakeholders is vital to identify innovative solutions and alternative materials. By documenting and analyzing changes throughout the process, value engineering ensures the project aligns with its goals and budget constraints, ultimately delivering a cost-effective remodel while maintaining or improving the store's functionality and appeal.