Store remodeling projects can be daunting. While any new store buildout is time sensitive, remodeling a store entails costly business interruptions.
No one wants to miss a Grand Re-Opening date.
Getting it done on time, and getting it done right the first time, seems like a pretty reasonable expectation. But ask most store operators about their experience, and you'll hear stories about deadlines missed and budgets blown away.
What does it take to achieve a successful store redesign? It's not just a talented architect or even a skilled general contractor. It's an experienced, highly coordinated project management team that's willing to own the outcome.
Award-winning retail design is just the beginning
In 2021 KRS was recognized with an International Design Award from the Retail Design Institute, one of fifty projects honored last year. We're admittedly proud of that. But world-class creativity is just the beginning of a successful store remodel today.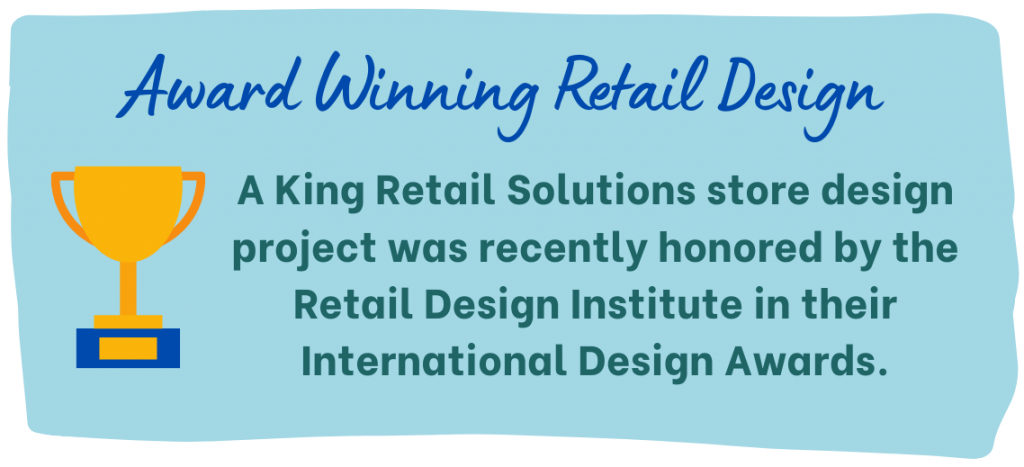 Whatever your brand's position in the marketplace, you want a store design that delivers a great customer experience and helps grow sales. Unfortunately, even the most brilliant design doesn't build itself. Bringing a store remodel to fruition requires much more than a unique vision or being on top of the latest retail design trends.
The devil is in the details. And there are a lot of details.
Store remodeling: you and what army?
Undertaking a store remodel project is incredibly stressful. The current shortage of skilled labor in the building trades has added another layer of uncertainty. The pandemic-induced spike in material costs and supply chain disruptions have driven up the price of every project.
It's not an easy time to remodel stores.
Your internal resources may be maxed out already. So when a retail design company assigns an account manager and (if you're lucky) an engineer to your project, you may wonder, "How on earth are we going to pull this off?"
Not an unreasonable question. Fortunately, it's one that we know how to answer.
Our clients get a cross-functional Client Services Team. It includes:
An Account Manager
A Project Coordinator
A Planner
A Detailer
Those last two functions may not sound familiar.
Planners determine the correct process and materials for manufacturing. They get parts ready to send to production and ensure we know how much the part will cost to make, reviewing actual production times and material usages, so they can adjust for future orders.
Detailers draw schematics and ensure the conceptual design can be built to specification. They work with our Planners to determine how to make something, using a drawing program to produce visual engineering drawings of the parts required.
To ensure clear communication and efficient problem solving, there's a single point of contact for the client: their account manager. And that's just the start of what makes our process unique in the industry.
Drafting Services Ensure it Works the First Time
In a store remodeling project, the specs of stores can be all over the map. Buildings are different sizes, with varying ceiling heights. Windows admit different amounts of natural light. Mechanical systems are of different vintages. All of these factors have a huge impact when it's time to install fixtures and decor.
We begin with a Site Survey, to ensure that a new design will work in an existing space.
The survey verifies as-builts and conditions that may have changed since the building first went up —things existing mechanical drawings don't show.
Our process typically includes a 3D walkthrough of the current space. For a multi-unit project, the site survey enables the client to view their stores collectively while on a call with the KRS team. This is far more efficient than a physical walk-through.
Site surveys are not normally conducted by most store design companies or decor manufacturers.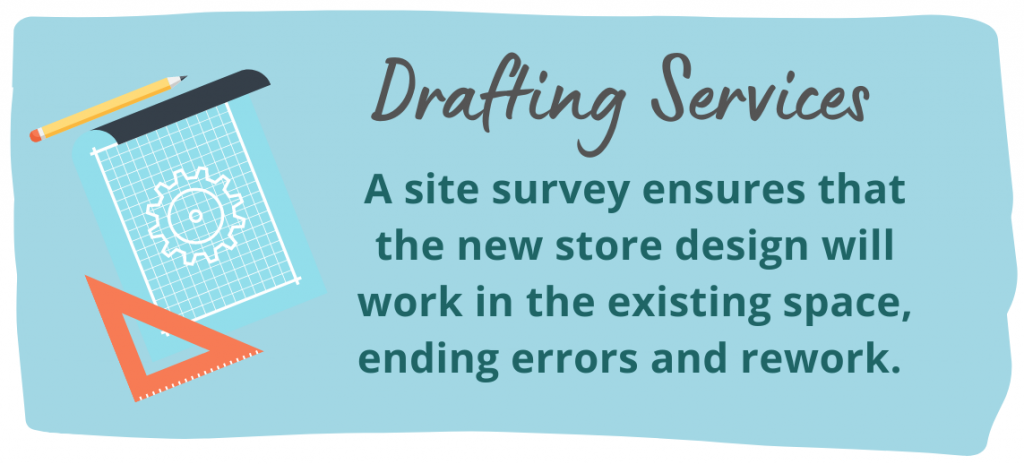 Our drafting services save clients time and money. Positioning an element is just as important as the design of the element itself. Unfortunately, many store design companies are "done" before installation.
What happens to your project then?
Lighting fixtures that look amazing in one store may appear totally out of scale in another. The height of that stunning forty-foot-long soffit graphic may be off by a few critical inches. Issues like these can make your installation a nightmare of clumsy workarounds, or outright reorders.
Our objective is no surprises when it's time to install.
In-House Retail Fixture and Decor Manufacturing
Our shop in Eugene, Oregon actually designs, engineers and builds many of the fixtures and signage that go into our clients' stores. We fabricate designs from other shops as well, and use materials from wood to metal to plastic. We can provide instruction and installation manuals and offer UL certification.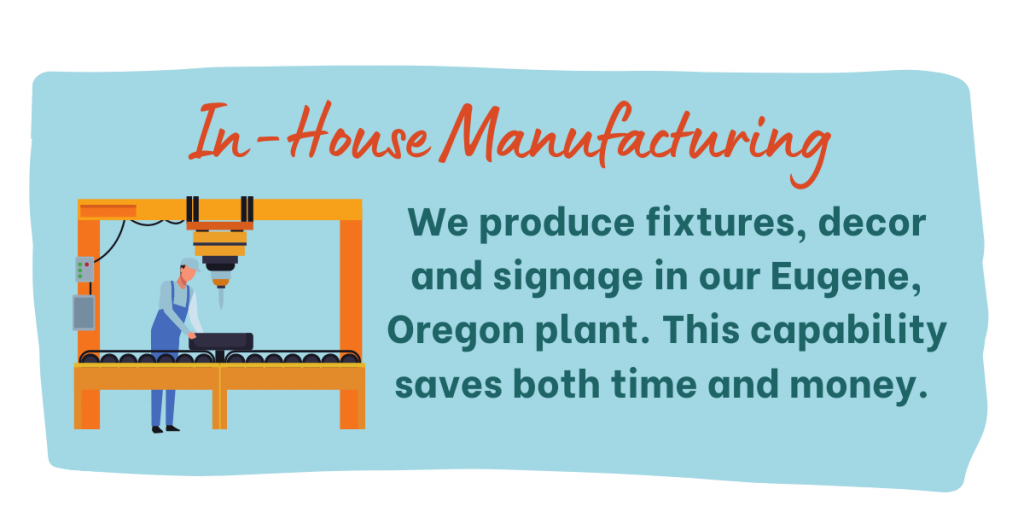 Value-engineering fixture designs is one of our unique abilities. For example, when lumber prices went through the roof, we were able to modify designs and produce store fixtures using metal, saving clients money and time.
North American stores can shave weeks off the time it takes to get their fixtures by fabricating here in the US.
Specially Trained Installation Crews
A hassle-free installation process is essential to the success of your store remodel. Many projects run into a wall—sometimes literally—in this critical final stage.
King's Certified Crew Leads go through two to three years of specialized training, becoming our installation SWAT teams. Our in-house planners and in-the-field project managers make sure installation goes quickly and smoothly.
"We're there for that final mile," says KRS President Shaun Londahl. "Right there in the field with our customers."
KRS sources the best and most cost-effective installation crews from our many regional partners. Some may be local, others may come from out of state.
The idea of bringing in an outside crew to do an installation may sound expensive, but it's actually a highly efficient use of time and money. Taking a chance on inexperienced labor for installation, especially during today's intense labor shortages, can cause a project to blow past its scheduled opening.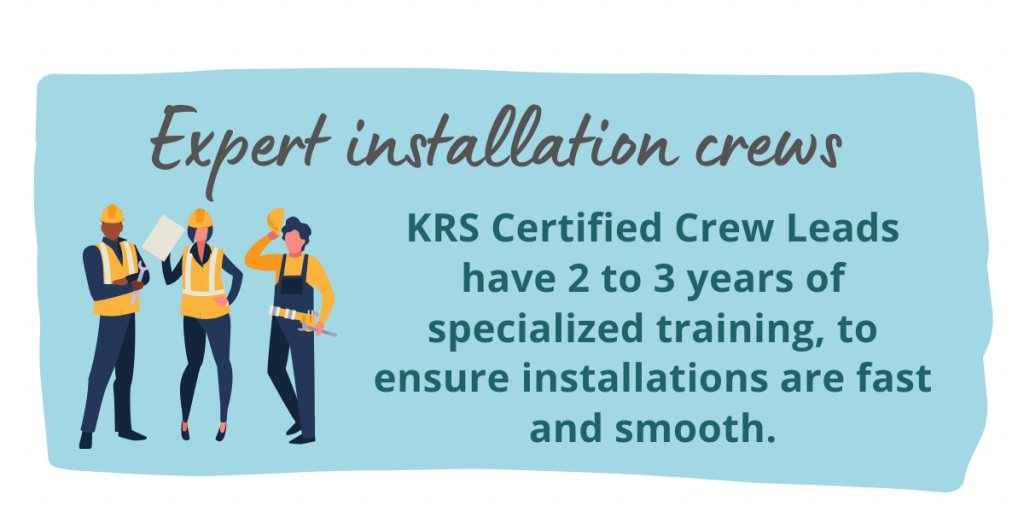 "We can install an entire, large grocery store in a week," Shaun explains, "But that same job, without our expertise, can take a general contractor an entire month…even more. And no one wants to shop in a grocery store that's under construction."
Larger projects call for larger teams
Size matters. Depending on the size and complexity of an account, our clients may not only have a project manager but multiple project coordinators for specific stores.
Project coordinators work with the boots on the ground, maintaining continuous communication with the trades. They provide visibility into the project's progress, delivering the fast answers that clients need.
Communication: the key to great project management
Every store remodel has an astonishing amount of parts, and knowing the status of an installation project is a must. Our installation crews and in-house project managers use a tool called Team KRS. This software enables us to track the status of each line item, showing clearly what next steps are required to take it to completion.
Then, as each item is installed, it's checked off in Team KRS and photos are posted to document that the outcome is exactly what was expected. If issues come up, they're flagged in real time in an Issue Report to ensure prompt solutions.
Team KRS gives clients an Installation Daily Progress Report, so they have up-to-date visibility into the project.
"We make ourselves very available," says Farrah Potter, VP of Creative Services. "Our Client Services Teams work together in cross-functional pods at our headquarters, which facilitates quick problem-solving and spontaneous brainstorming."
We take it off your plate—one dish, or the entire meal.
We're experts at owning a store remodel project from end to end. But many clients have in-house resources or go-to vendors they want to use.
Happily, KRS plays well with others.
KRS will routinely fabricate and install fixtures and decor designed by others—our Client Services Team will be on the job either way, ensuring that all the pieces come together as efficiently and smoothly as possible.
"We have a 'get it done' attitude," says Farrah. "We respect the client's vision, their deadlines and their budget. We do what it takes to get them to the finish line."
And to Grand Re-Opening Day.
Thinking about a remodel project?
A KRS core competency is delivering great outcomes within budgets and timelines. Contact us to talk about your concept and how to make it a reality.