Grocery store aisle signage has long been the unassuming hero of supermarket wayfinding. But the right grocery store aisle signs can transform your sign program from Clark Kent to Superman.
Aisle signs are first and foremost functional. Aisle markers, at minimum, feature easy-to-read aisle numbers and list product categories. But that's no reason to assume they play an insignificant role in the customer experience.
Retail aisle signs are a key part of your store decor package precisely because shoppers interact with them so much. Grocery store design companies know that these signs are not meant to be an afterthought, but the backbone of navigation in the supermarket aisle.
Here are the four unbreakable laws of aisle signs:
1. Grocery Store Aisle Signs Should Have a Consistent Design.
Because of their importance in wayfinding, maintaining a consistent design in aisle signage is essential to ensuring that shoppers can easily navigate your store.
A key function of aisle signs is minimizing customers' "where is the…?" questions, which can consume employee time—something that's in short supply these days. Whether customers need directions to the cereal, milk, eggs, bread, meat, cheese, peanut butter & jelly, yogurt, fruits, vegetables, pasta sauce, canned goods, snacks, crackers, soda water, beer, chips or ice cream, aisle signs form a critical piece of your overall retail interior design.
2. Aisle Signs Must Be ADA Compliant.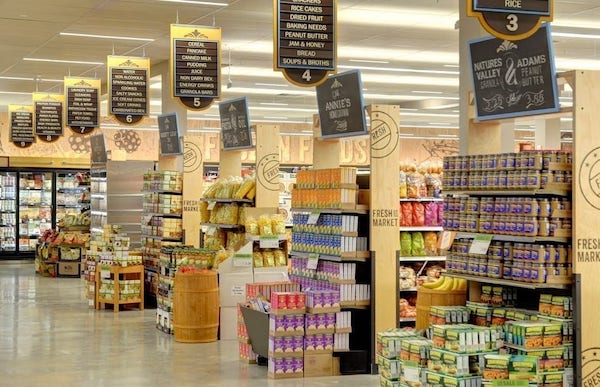 Regardless of the aisle sign styles, they must comply with ADA sign installation regulations:
The bottom of an aisle sign must be no lower than 80 inches from the floor.
Signage cannot project more than 4 inches into an aisle or pathway
Signs can't interfere with or block any door function, emergency equipment, or sprinklers.
3. Aisle Signs Should Be Easily Legible.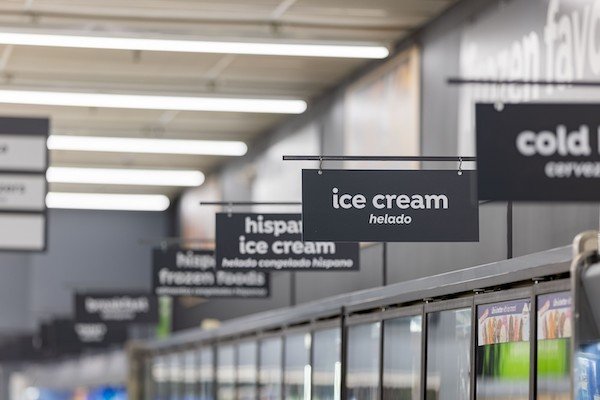 Clean, easy-to-read fonts are a must. Sans serif fonts tend to work best, but they don't have to be dull and dowdy. There are many contemporary sans serif fonts that are highly legible but express the personality of your store brand, too.
Use type that contrasts well with the background; keep backgrounds solid. Light type on dark backgrounds can convey a more upscale aesthetic but tends to be harder to read than dark-over-light.
A light-on-dark design will generally require a bolder or larger font. This can also be effective when used on signs closer to shoppers in supermarkets, such as those on gondola shelving.
4. Aisle Signs Should Be An Integral Part of Your Grocery Store Decor
Aisle signage doesn't have to be a "necessary evil." Executed well, it can enhance and amplify your store decor. A great example of well-integrated aisle sign design is seen in the new Lucky stores in Northern California, for which King Retail Solutions manufactured signage, decor, and fixtures.
The Lucky aisle directory program expresses a clean, fresh, and modern design and utilizes different applications of one master font throughout the store. That font appears on everything from aisle signs to dimensional wall signage, carried out in different colors and materials. Using a master font creates a unifying design "throughline" within the store.
For Lucky, a playful aisle sign "frame" combines vibrant hues of poppy red and violet. Red aisle numbers are outlined in white to enhance legibility.
The colors contrast well against the grey sign panels and white type—a neutral combination that signals this as the place to look for information. These elements are mounted on wood-look background panels to underscore a message of offerings that are "natural and healthy."
Types of Grocery Store Aisle Signage
There are three primary types of signs used in grocery store aisles:
Hanging Aisle Signs
The hanging sign is one of the most frequently used styles in grocery stores. They're hung centered above the aisle, and they're usually symmetrical because they're typically two-sided.
Hanging aisle directories look and work best in stores with high ceilings. In older buildings with lower ceilings, in small urban markets, and in convenience stores, signs mounted on shelving tend to work better.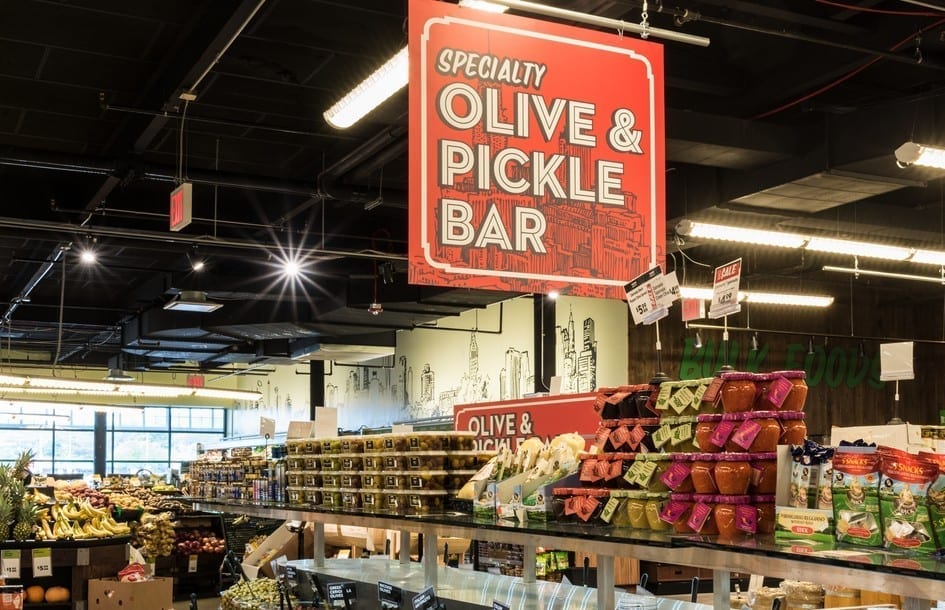 Gondola Shelving Aisle Signs
These aisle signs are mounted to gondola shelving, most frequently on the endcap, but also mid-aisle.
Aisle signs can be placed parallel or perpendicular to shelving, depending on location and shopper traffic patterns. Gondola-mounted aisle signs that face the "racetrack", the wider perimeter aisle, can set the tone for the shopping experience.
Shelf-mounted aisle markers are typically built on metal frames from which the printed signs are suspended. Metal brackets for aisle signs should be adjustable in height. This ensures that all grocery store aisle signs appear at the same height, regardless of the shelving fixture to which they are attached.
Grocery store outrigger signs are mounted to the tops of gondola shelving units. Pendant signs are suspended from L brackets, which hold pendants on one side, or T brackets, where pendants are hung on each side. Because of their generally smaller size, it's important to ensure lettering on pendants is easily legible.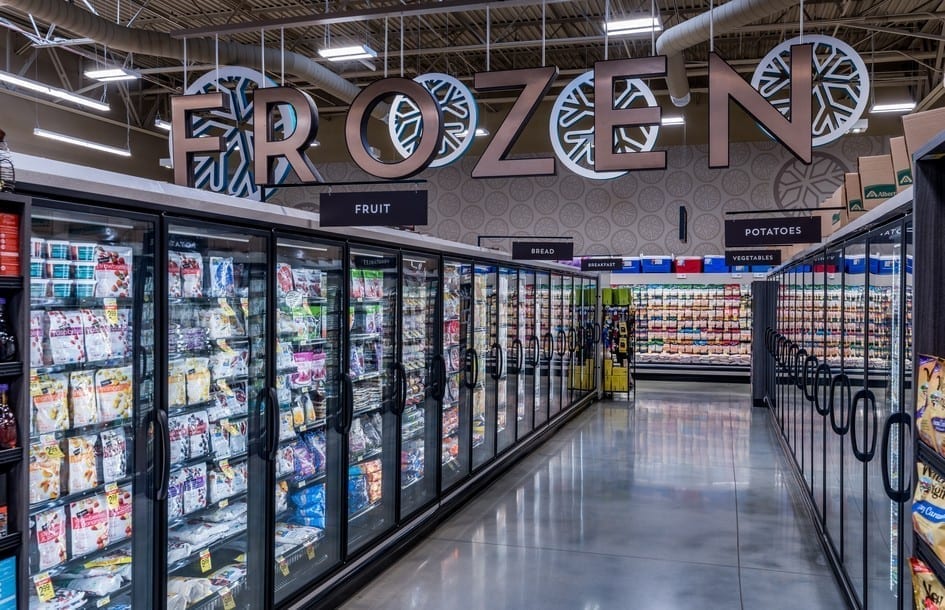 Gondola Aisle Sign Holders
Another style of aisle sign is one that's mounted atop store fixtures such as gondola shelving units to provide a "header" for the displays of merchandise beneath. These are most often used on gondolas 72" high or lower, placing the sign holders at eye level or slightly above. This style is often used to set off displays of higher-value products, such as wine.
Header frames can hold items such as a sign insert or a suspended sign. Because these can be significantly larger than gondola pendant signs, it's a good place to utilize unique design ideas or simply more decorative font styles. They can also integrate with other aisle marker signs in your decor package.
Enchanting Aisles
The way store aisle signs are being used today reflects changes in the design of grocery store layout. The traditional supermarket layout of long, unbroken aisles is an artifact of "transactional" retail stores, in which the shopper moved through the store collecting products.
With today's grocers vying to offer their customers an emotionally engaging experience, those long grocery aisles are being disrupted. This breaks up the monotony of trooping up and down rows of shelves and encourages discovery—which triggers impulse shopping and higher sales.
In contemporary grocery store designs, center-store space is being used to create captivating new shopping and dining experiences. It would have been hard to imagine "hanging out" in a grocery store ten years ago, but retailers are now doing their best to move beyond mere "grocery shopping" and keep customers in their world as long as possible.
This presents a new challenge for wayfinding. Not every shopper, every time, wishes to "discover" or "experience". Often, that customer simply wants to get through their list as fast as possible, get their food and other groceries in the cart, and get home.
This makes clear, easy-to-read, and helpful grocery store aisle signs more important than ever. It can also mean that stores need to add store signage to help customers re-orient themselves after passing through a delightfully distracting "experience zone".
Are Custom Aisle Signs Affordable?
Reflecting the old belief that supermarket aisle signs are simply a commodity, many retailers opt to purchase off-the-shelf designs for their grocery store signs. Unfortunately, these generic signs don't express their brand and can strike a flat note in otherwise well-designed stores. And thanks to overseas supply chain issues, off-the-shelf signs may take as long to receive as custom signs made in the U.S. and carry a larger carbon footprint.
King Retail Solutions produces signs and store decor in our 100,000 square foot production facility in Eugene, Oregon. We manufacture signs from wood, metal, and plastics. Regardless of the vendor who designs your fixtures and decor, KRS works rapidly through prototype, revisions, and manufacturing.
A KRS specialty is value engineering, ensuring that everything we produce is as budget-friendly as it is beautiful. Custom aisle signs are a surprisingly cost-effective alternative to off-the-shelf products.
Today's retailers know that a customer's attention is a precious asset. You'll capture more of it when you combine essential wayfinding information with eye-catching design.
Is it time to update your grocery store aisle markers and signs? We can help.
FAQs on Grocery Store Aisle Signs
How often are grocery store aisle signs updated?
Permanent décor is typically updated every 5-12 years in a grocery or convenience store. Temporary, or promotional, signs are changed as frequently as weekly.
How does the store decide which products to feature on the aisle signs?
Featured items in aisle markers typically include core merchandise categories, that help the shopper locate a general area for further product search. Once the shopper is in the general area, product level signage is determined by the store merchandising team, or by a CPG category captain who might be involved in merchandising that section of the store.
How are the aisle signs designed?
Aisle signs are one part of an entire store environment and brand. Typically a retail design agency will work with a retailer or grocer to understand the brand direction, and then create a store design and décor package that is consistent with that brand, while also helping to inform and direct the shopper throughout their journey in the space.
How big are the aisle signs?
Aisle markers are typically 2-4 feet wide and tall. They may be single-sided, double-sided, or set up as tri-sided, depending upon the preference of the retailer. Smaller outriggers or aisle violators are roughly 4" wide and 12-24 inches long.
Who is responsible for designing and creating grocery store aisle signs?
Some retailers will design these elements in-house, but most partner with a retail design firm that specializes in the design of the interior décor and signage packages.
Who decides which products will be featured on grocery store aisle signs?
The retailer will typically have a merchandising team who will determine the product placement and signage needs. In some cases, they partner with their category captains on product placement and signage copy.
Who determines the placement of grocery store aisle signs in the store?
The retailer's store planning and merchandising teams, or the retail design firm they bring on to fulfill this function.
Where are grocery store aisle signs typically located?
Aisle Marker signs are usually hung from the ceiling. In some cases, especially with very tall or very low ceilings, the aisle markers will be mounted on the top of the endcap of the aisle shelving. Outrigger signs are generally mounted to the top of the spine of the gondola shelving with a custom metal outrigger bracket. There are also many temporary signs that are attached to the edge of the shelf.
Where do grocery store aisle signs get their power from?
Most aisle signs are not powered. In some cases, shelf-mounted displays could be powered, through a power chase running down the length of the shelf, or via battery power.