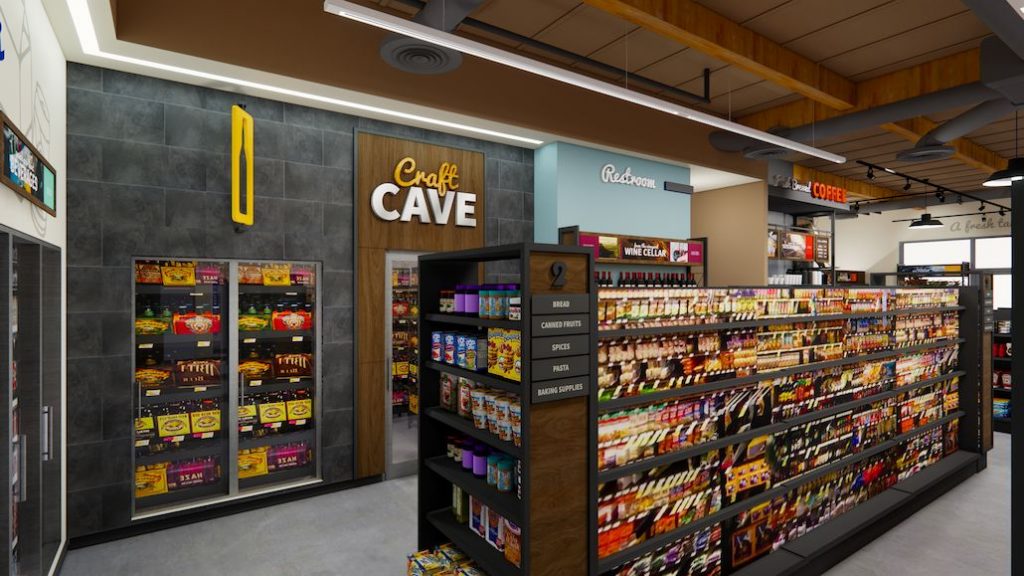 Retail shelving is the heart of any grocery store and convenience store, but these fundamental store fixtures are often taken for granted. Customers interact with store shelving dozens of times in an average visit–it's where the visual merchandising rubber meets the road. Both the type of shelving fixtures and their placement have an enormous impact on the experience shoppers have, though much of it is unconscious. Your store's shelving units deserve an in-depth look before you design, fabricate, or purchase them from a vendor.
Gondola shelving units
There are three basic types of gondola shelving fixtures in supermarkets and convenience stores:
Freestanding "gondola" units
Wall-mounted fixtures
Gondola endcaps
Gondolas are ubiquitous retail display fixtures that come in a wide array of heights, widths, and materials. But not every gondola is created equal.
Named after the long, flat-bottomed boats that ply the canals of Venice, gondolas are constructed with a base and sturdy vertical spine. Thanks to the strength of their upright spine, they're able to support cantilevered shelves on either side and can support heavy loads.
The vertical skeleton may be of steel construction, and can also be fabricated from slatwall, pegboard, or solid board. Shelves, bins, racks, and other display fixtures are mounted to the spine. For maximum versatility, most gondola shelves are adjustable.
Gondola shelving may be mobile, on casters or wheels, but most is floor-mounted. The latter is ideally suited to loading heavy merchandise such as wine and liquor or canned goods. In grocery stores and many c-stores, gondolas have evolved from plain, functional, virtually invisible fixtures, to design-forward store shelving solutions that showcase your brand.
For a Whole Foods interior design, King Retail Solutions set apart shelves displaying coffee by creating a top fascia with the look of vintage barnwood and coordinating the color of vertical shelving supports to match. The broad top panel serves as a backdrop for bold signage and the unit's striking facade gives the feeling of a shop within a store.
Aisle signs are the "King" in convenience and supermarkets, but gondolas can participate as well. Signage systems are the ideal way to take gondolas from "storage" to "storytelling". To highlight sales or seasonal offerings, chalkboard-style and other signs can be hung from a rail mounted atop the gondola. 
When designing a gondola, store designers know that one size doesn't fit every merchandise category. Consumer shopping behavior varies with the type of merchandise being selected. If a shopper is replenishing a grocery staple such as rice or flour, they'll shop the shelves close to the floor without a second thought. But the same shopper browsing for cosmetics is exploring, and less likely to "stoop" to do it, so a wall unit in a cosmetic department can include locking inventory storage cabinets for backstock.
Endcaps are just the beginning
Endcap shelving is a great way to highlight products close to the point of sale, offering an important opportunity to increase basket size. Endcaps make efficient use of space while still providing an unavoidable focal point for specialty merchandise, sale items, and even high-margin, grab-and-go offerings. Endcaps offer the highest visibility in your retail store, and are a crucial part of your store design.
Convenience stores frequently utilize wire rack shelving as low-profile endcaps, to make sure you don't miss those impulsive salty-and-sweet purchases. But many convenience store fixtures are a jumble of different fixtures and finishes. While shoppers may not consciously register this problem, visually chaotic interiors inspire quicker exits. For a Jacksons c-store design, King Retail Solutions coordinated the color of wire racks and gondola shelving fixtures to give a seamless appearance that more effectively showcases merchandise. When trying to increase purchase size in the fast-paced c-store environment, lowering the visual "noise" sends subtle cues that help decelerate shoppers and invite increased purchases.
The design team at King Retail Solutions often "dress up" endcaps with surrounds that call attention to a certain product and incorporate graphic signage into the header. This makes an endcap feel more substantial than plain shelving and makes the most of this powerful type of display fixture.
Shelving materials
The design team at King Retail Solutions often uses a mix of materials on gondolas in certain areas of the stores so that one continuous material isn't used throughout. This allows a visual "break" between departments. For example, wood shelves are utilized in the bakery area to add warmth and a natural feel to the fixture, but an aisle holding canned foods may simply have painted metal shelves.
Retail display shelves are fabricated from materials that include sheet metal, wire, wood, laminate over composite wood, glass, and less commonly, plastic. Heavy duty metal combines space-saving low profile, strength, and durability, but it can sometimes lack aesthetic appeal.
Because metal shelf finishes must be durable, powder-coating is the gold standard, but depending on their use, shelves can also be painted. When buying "off the shelf" shelving fixtures, there's typically a limited choice of colors: white, almond, and black are the standard options. While shelves should never compete with merchandise for a shopper's attention, having the ability to specify custom shelving colors can make a subtle but profound difference in the look and feel of a grocery store interior.
Wood shelves and wood-look shelving are used to confer a richer, warmer, or higher-end appearance. Glass shelving, a standby of many boutiques and gift shops, is used sparingly in the c-store and grocery store environment, unless it's for a feature display of higher-end merchandise, such as cosmetics.
Up against the wall: wall mounted shelving
Typically used in areas where space is at a premium, wall-mounted shelves are not as deep as gondola shelving units. A favorite for its versatility is slatwall, (also known as slotwall) originally patented in the mid-1960s. Slatwall permits stores to remerchandise with ease, incorporating a wide array of accessories, including bins, baskets, feature lights, and sign holders. Because of its affordability and ease of installation, by the 1980s slatwall became ubiquitous in the retail world, and its standard white finish a dreary cliche.
As store designers look to midcentury materials for inspiration, slatwall has enjoyed a revival. Today, a wider array of finishes, including graphics, metal, and updated wood laminates, are applied to this space-saving classic. And there's no need to stick with the default three-inch-on-center design of off-the-shelf slatwall panels: slatwall and its accessory shelves can be custom-fabricated to suit the size of the merchandise being displayed.
Rack 'em up
Lightweight, freestanding racks, typically constructed from metal or epoxy-coated wire, aren't the core of most grocery store shelving but are indispensable thanks to the fact that they can be quickly disassembled and moved. They don't offer the strength of gondola shelving but are go-to fixtures in many grocery store bakery and gourmet departments, or in small stores where maximum flexibility is required. Though black and chrome finishes are typical, store designers can also specify custom colors to give wire rack shelving a branded, more upscale look.
Shelf conscious
Retail shelving units no longer just hold product, they're a part of a store's communication strategy. The precious real estate at or near eye level is increasingly being leveraged with new forms of signage (Check out our Grocery Store Signage blog here). This includes traditional shelf-talkers, new types of digital signage, and interactive signage that responds to the presence of a shopper's smartphone. Exercise restraint, however: shelf signage should never overwhelm the merchandise.
Store Layout
The positioning of your shelving units is as important as the fixtures themselves. Most grocery stores rely on a grid layout, which is highly efficient and offers straightforward navigation among merchandise categories.
Grid layouts, however, are generally not engaging. To elevate the shopping journey to one that feels experiential, designers can build in more variation in both the type of retail fixtures and their placement. In many supermarkets that once held long, unbroken aisles of the same shelves, store layouts now incorporate more aisle "blocks" to relieve monotony and aid shoppers in navigating the interior.
A primary consideration of supermarket shelving layout is the ability for two shopping carts to pass with a comfortable margin. When placing shelving units in traditional convenience stores where shopping carts are not usually a factor, the designer must also consider what consumer behavior expert Paco Underhill famously dubbed the "butt brush factor". This refers to the ability of a shopper to stand in front of shelves with enough room for another person to pass without brushing against their derriere.
Shelving fixtures: custom vs. "off the shelf"
When updating a grocery or c-store or designing a new one, sometimes a budget dictates purchasing shelving units off the shelf and focusing your design resources elsewhere. While these core fixtures provide an important storytelling "canvas" that shouldn't be neglected, they can also be augmented with judicious use of custom fixtures.
At King Retail Solutions, designers like to balance the use of gondola and shelving units with custom merchandisers and fixtures that create a hierarchy of highlighted products. When custom fixtures just aren't a practical option, it's still possible to use material and color choice on shelving to help differentiate departments or product offerings.
Whether your store fixtures are completely custom-designed or a mix of custom and off-the-shelf, when you establish a unified, holistic interior design, the result is an appealing environment that provides the infrastructure for a great customer experience.
Ready to revamp the core of your store? Let's get started.