Editor's Note: This post was originally published in November 2022 and has since been expanded and revised for clarity.
Modern grocery store signs serve functions beyond wayfinding and branding. They're increasingly leveraged to enhance the customer experience.
Here are six grocery store signage trends to watch.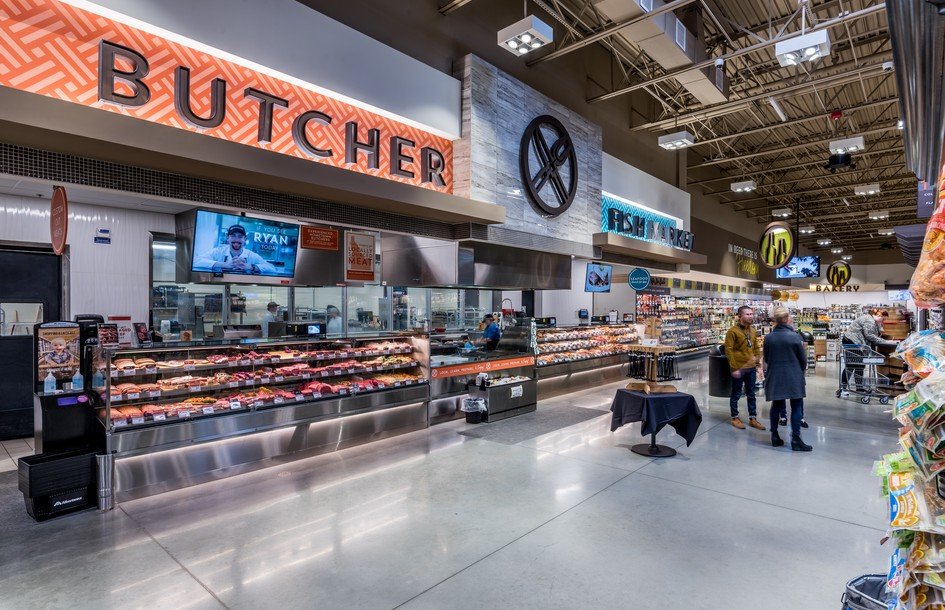 Like many other retailers, modern supermarkets are embracing signage industry trends, such as high-impact visuals to their decor. Social media has driven the appeal of eye-popping, large-format signage and decor elements that customers will be motivated to share.
The latest retail interior design deploys large-scale signage to create an immersive feeling for shoppers. Signage using oversized letters frame and define service areas like butcher counters or bakeries. The super-sized sign is a trend that can work even in stores with smaller footprints.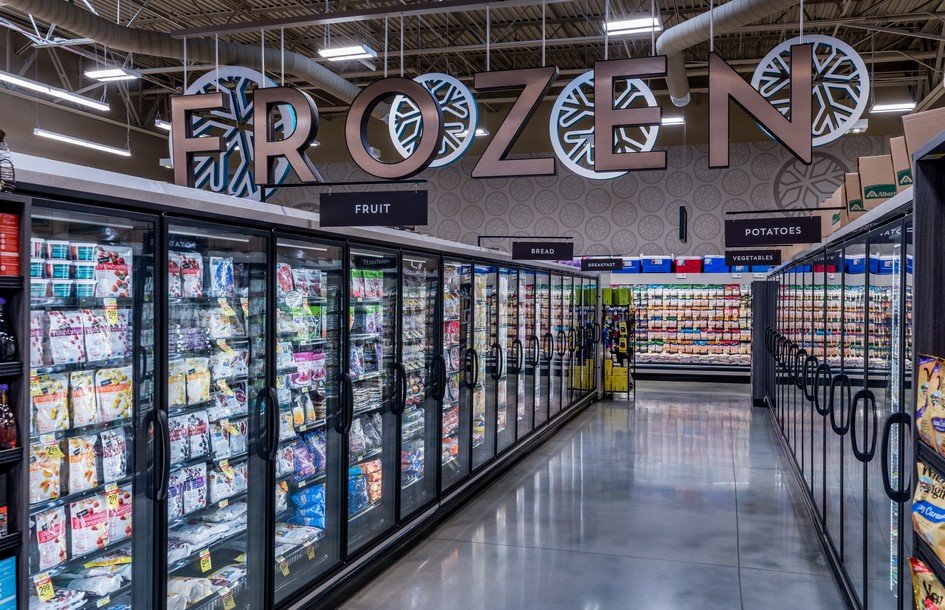 Ultra-bold soffit murals, projected signs, and printed wall graphics can deliver a big impact for a relatively low cost. This type of signage can also be updated more frequently, helping to keep the store image fresh.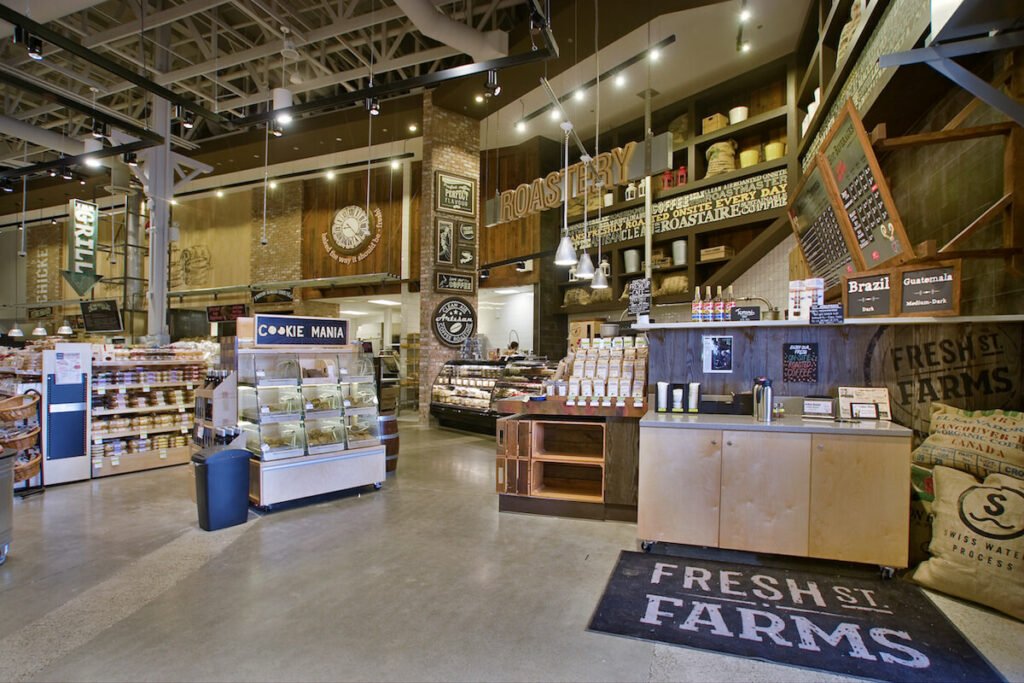 Grocery store designers continue to draw on the rich trove of vintage and retro designs inspired by the rapid technological changes of the 20th century. Vintage letterforms and materials, such as metal, are used to evoke the quality and service of yesteryear in grocery store interior design.
Freestanding and dimensional letters, backlighting, and neon convey a mid-century modern look that feels clean, contemporary, and sleek—an aesthetic perfect for grocery stores.
Farm-to-fork, folksy signage also remains popular. Natural-looking materials and hand-drawn fonts suggest the health and well-being of products and evoke the traditions of family farms, farmers' markets, and local suppliers.
3. Plan for the Meal Planners 
70% of American families report that they meal-plan every week, with many combining planning and actual food prepping. This money-saving trend has exploded along with prices as consumers struggle to stretch their budgets.
Meal planning is changing the way customers navigate grocery stores in person. While wayfinding signage, like aisle signs, is crucial, meal planners also need "storytelling" signage that quickly communicates new opportunities, tips, and tricks for saving money while eating well.
Grocery stores are juxtaposing products that are natural companions—such as pre-cut produce and proteins. But they also hope to drive higher incremental sales with complementary product offerings.
4. Digital Signage Grows Up
5. Meet Consumers' Need for Simplicity
The Lucky's Supermarket design uses bold colors for impact but sticks to one font family for signage to create a harmonious feeling of simplicity. King Retail Solutions fabricated signs and other store decor for both brands. 
6. Physical + Digital Should Play Well Together
As more consumers depend on grocery shopping apps, it's vital to integrate the design of physical signs and the digital interface. These two realms might have shared little more than a logo not too long ago.
Emerging technologies have shifted the perception of digital shopping as a replacement for in-person shopping to a complementary experience that enhances the consumer's in-store journey. Taking this holistic approach to marketing strategy is a way to increase customer engagement.
The use of QR codes is helping to reduce the need for some types of non-value-added informational signage, allowing for less cluttered grocery store interiors.
Design-savvy brands ensure that the online and in-person shopping experiences convey a consistent storytelling language, including colors, fonts, materials, and even music.
Ready to elevate
your grocery store?
Is New Grocery Store Signage Affordable?
The American consumer expects and responds to "shiny and new."
According to a study by the Sign Research Foundation, 60% of businesses that updated or replaced old signage experienced sales growth of 10% or better.​
Companies seeking to enhance the retail experience with new signage must navigate the challenges of rising costs.
Here are some key strategies for managing the expense of your signage project:
Strategic adjustments to designs and material specifications frequently yield substantial savings. Insist that value engineering be part of the process. King Retail Solutions has turned value engineering into a core competency.
"We know that value engineering will be part of every project we do," says Shaun Londahl, President of KRS. "We understand how things are made and find new ways to build things when standard methods aren't working."
A store decor fabricator who can manufacture signs from wood, metal, plastics, lighting, and digital printing will give you maximum flexibility and choice.
With today's supply chain disruptions and labor shortages, an end-to-end solution can be the difference between an on-time grand opening and costly delays.
One of the biggest challenges of creating new signage is ensuring it works in every location. 3-D video site surveys enable fabricators to adjust designs to fit before signs are manufactured, providing quick, precise, and virtually painless installation.
Consumer sentiment has taken a drubbing from inflation, while shoppers are being asked to adjust to lower staffing levels and even reduced operating hours in retail stores. But even as shoppers change their behavior to these conditions, they're also motivated by factors other than price.
Improving the customer experience has never been more important for differentiating your brand.
Experiential retail will continue to require creative interiors and frequent refreshes. Even ultra-discount grocers can't afford to deliver an experience that feeds consumers' anxiety that things are in decline.
Like consumers, retailers need to get the most bang for their buck—and updated signage is one of the best ways to do precisely that.
Ready to maximize your store signage? Let's get started.
Frequently Asked Questions
Is updating your store's signs a cost-effective strategy?

There are two ways to think about this question:

1. Updating the signs as part of a light rebrand or
2. Updating the signs as part of a larger store remodel.

A light remodel can be done for a fraction of the cost of a complete remodel. When partnering with a turnkey provider of signage and décor design, fabrication, and installation, you can significantly improve a store's interior branding, wayfinding, and design for a relatively low cost per square foot.

Typically, signs represent 3% of the total construction budget when part of a large remodel. Full-scale remodels can dramatically reduce operating costs and optimize square footage, especially when replacing older building systems.

In both cases, the signage and décor are a small part of the investment for a big improvement.
What is value engineering in the context of grocery store signage?



Effective value engineering of a signage or décor program will reduce costs while maintaining or improving functionality, durability, and standardization for large program rollouts. It can also enhance the efficiency of distribution, installation, and maintenance, which will have added advantages when considering total cost and value. The Client Services team at KRS collaborates with our sourcing, production, and installation teams to develop novel approaches that maximize the value of your investment.
How are trends in retail interior design affecting supermarket signs?

The current trends in retail interior design influence supermarket signage by emphasizing sustainability, storytelling, flexibility, and aesthetics. Supermarkets are using signage not only to improve wayfinding and the conveyance of information but also to enhance the overall brand identity of the space.