The pandemic pushed more consumers than ever into the online shopping pool, as even technology-resistant customers adopted and then embraced new tools. Rather than a reflexive return to old behaviors, shoppers are integrating new habits and applying new standards to their brick-and-mortar shopping experience.
Retailers are scrambling to innovate, seeking to deliver the "frictionless" customer journey provided by e-commerce behemoths like Amazon and WalMart.
According to a poll by rewards app Shopkick, 60% of consumers believe that the pandemic has changed their shopping behavior permanently. That same poll confirmed that many shoppers continue to be concerned about safety while shopping in-store.
BOPIS (Buy online, pick up in store) exploded during the pandemic, with 85% of consumers reporting increased use of this option. The idea of standing in a queue to purchase groceries seems antiquated to many shoppers.
Contactless shopping has its limits; with 20% of in-store grocery sales made on impulse, getting consumers back inside is a top priority.
As well, grocery stores are still trying to work out a way to pick and pack customer orders that doesn't disrupt the in-store customer experience (or the bottom line). Some, like Kroger's, have set up "dark" stores that function as customer-free mini-warehouses, to keep employees (and workers from outside services like InstaCart) from congesting the aisles of their stores.
The checkout line choke point
Patience is in short supply as the economy re-opens, with social media awash in videos of customers behaving badly. Stick points that were once a grudgingly-accepted part of the in-store shopping experience are creating unexpected, outsize frustrations and reducing customer satisfaction.
Even pre-pandemic, according to a 2018 study by payment platform Adyen, long checkout lines were costing US retailers $37.7M annually in lost sales. The checkout experience, the least enjoyable part of virtually any customer journey, continues to be a ripe target for innovation.
High touch retail stores like Apple and Bonobos have led the way in eliminating the traditional checkstand by bringing the POS system to the customer. (You may have to stand in line to check in to an Apple store, but you won't have to stand in long lines to check out.)
Ayden offers a single payments platform that enables retailers to accept payments anywhere, on any device, including web browsers, mobile devices and cash register systems. This permits retailers to offer an "on demand" POS at the optimal point in a customer journey, and to enable more store employees to function as cashiers.
As retailers go omnichannel, systems like this can also smoothly integrate online and offline shopping experiences within a brand.
Going cashierless: a tale of two technologies
While contactless payments and mobile wallets are now standard, true cashierless transactions are still in their infancy.
Amazon threw down the cashierless checkout gauntlet when they introduced their Amazon Go convenience stores in 2017. The company's Just Walk Out system leverages advanced technology used in autonomous vehicles, including, per Amazon, "sensor fusion, computer vision and deep learning".
Customers don't need to download an app or have an Amazon account to use Just Walk Out to buy groceries. As they enter the store their method of payment is scanned; as they shop, items taken from the shelves are added to their virtual cart. If an item is returned to the shelf, it's removed from the shopper's cart. To exit, shoppers must re-scan their QR code, their palm, or the card used at entry.
But Just Walk Out has not been without its detractors. "Computer vision" was quickly understood to mean "lots of high-resolution surveillance cameras", and Amazon faced a backlash from consumers who felt the system posed a threat to their privacy.
On June 17, 2021 Amazon premiered its first Fresh full-size grocery store that utilizes both traditional payment and the Just Walk Out technology at The Marketplace at Factoria in Bellevue, Washington.
In 2020, Amazon also opened a full-size Fresh store in California that employs Amazon's Dash Cart technology. Dash Cart enables shoppers to bypass checkout lines when buying up to two bags of groceries.
Just Walk Out technology is not limited to Amazon, and is being licensed to other retailers as well. Installing the technology in an existing store can take several weeks. For new store construction or remodels, that company recommends that Just Walk Out be integrated into grocers' store design.
Future proof your business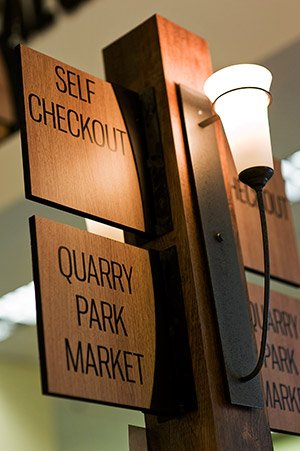 For retailers who'd like the benefits of self-service, cashierless checkout but are reluctant to adopt expensive, infrastructure-intensive technology, FutureProof Retail offers the Scan & Go solution. Future Proof Retail collaborated with SIRL, leveraging the company's proprietary indoor GPS technology to produce a "last foot" shopping solution for use with smartphones.
The Scan & Go app integrates with virtually any standard point of sale technology, and enables shoppers to scan and bag items as they move through the store, view a running total–including discounts–and check out, using their phone. In-store kiosks are an additional option for providing a seamless customer experience. There is a multi-layered loss prevention system, and the app can also make "smart" recommendations, based on the customer's purchases. For example, someone purchasing tortilla chips may receive a recommendation for the store's house-brand salsa, a high margin item.
Scan & Go includes a final scan of a QR code at the store's self-checkout area to finalize payment and receive an "exit pass". At this self-checkout counter, consumers can utilize any method of payment, including credit cards, debit cards, or cash; paper receipts or digital receipts can be issued. The exit pass process enables random auditing of bags, alcohol ID check, and interactions with staff. (Stores have the option of eliminating this step for true instantaneous checkout.) Even with human interaction required, wait time can be reduced.
Scan & Go can be integrated into a convenience store in its "Compact" solution for $75 per month per location plus 1.5% per transaction. The recommended "Standard" solution for grocery stores is $250 per month per location plus a maximum of .22% per transaction; the percentage drops with volume. The Standard solution includes white label customization and API access options as well as full deployment assistance and a dedicated Adoption Success Manager.
Scan & Go is being utilized by a variety of retailers, and a version has been implemented at WalMart as part of its subscription WalMart+ program. Traditional cashier checkout and Scan & Go was recently compared in a review by Business Insider. The reviewer concluded that traditional cashier checkout was faster when the store wasn't busy, when purchases included produce that needed to be weighed, or when customers purchased alcohol, which requires an ID check.
While the review was based on the experiences of one shopper making just two identical purchases, it did highlight an inescapable reality of DIY barcode scanning: the shopping experience slows somewhat even as the checkout experience accelerates.
But because long checkout lines produce such powerful negative emotions in consumers, this "redistribution" of time spent in-store can still yield higher customer satisfaction. As well, the increased interactivity and personalization provided by the app can produce higher totals at checkout.
While Scan & Go effectively turns customers into cashiers by having them scan barcodes themselves, Just Walk Out is a faster, virtually frictionless solution. Speed and ease come at a price of course, and retailers will have to determine which type of approach delivers the best ROI for their business model.
Rethinking checkout will change new store design and store remodels
By reducing the square footage of their store dedicated to checkout stands, retailers can win back valuable selling space, and potentially create a more compelling entry experience for their customers.
One downside: checkout stand impulse purchases, especially the "power categories" of beverages, magazines and confectionery, are a significant driver of store sales and profit, and ensuring that those buying opportunities still exist is a cashier-less grocery store design imperative.
Consumers who are no longer idling in a traditional checkstand line may actually avail themselves of impulse purchases that they might not have made under the gaze of their fellow shoppers, provided those items are placed in the flow of their newly streamlined shopping experience.
King Retail Solutions recently developed a new self-checkout design for a major retailer and a CPG company that leverages this very opportunity. The engaging self-checkout pod created by the KRS design team provides impulse sales opportunities but also offers more privacy than standard self-checkout stations.
"We developed these new store fixtures to transform the final touchpoint in the customer journey to something experiential, rather than transactional," notes Farrah Potter, EVP of Creative Services for KRS. "But they still ensure the most efficient use of floor space and labor. It's a win-win."
As the cashierless trend takes hold, the look and feel of Checkout 2.0 will continue to evolve. One thing is certain: the frictionless shopping experience consumers enjoy online will continue to drive innovation in brick-and-mortar store design.
Ready to take your store to the next level? Let's get started.