The Challenge
When discount grocer Save A Lot decided to sell off the majority of its locations in 2020 to independent retail partners and transition to a wholesale business model, Mike Needler of Fresh Encounter Inc. seized the opportunity. The third-generation grocer, whose company operated a group of eight family-owned grocery brands in Ohio, Kentucky, and Indiana, purchased 52 Save a Lot stores in the Tampa Bay area.
Following its change to a new business model, Save a Lot initiated a rapid makeover, critical to the company's relaunch. It offered retail partners incentives to quickly convert their stores to the brand's updated look and feel.
Needler had to complete 52 grocery store renovation projects in just a few months. "The stores had not received material investment in many years," he says. He began the ambitious project at the beginning of 2021.
The Solution: A Proven System for Renovating Stores On Time and On Budget
King Retail Solutions understood from the beginning of the Save A Lot conversion that a rapid rollout across so many stores would only succeed if the retail partners and Save A Lot Corporate were on the same page. Communication was key.
Many store design projects are undertaken by brands using a hodgepodge of vendors, forcing the client to coordinate the different contributors. Finger-pointing ensues, schedules slip, budgets balloon, and the outcome is frequently disappointing.
The Save A Lot conversion was an excellent business case for our signature holistic approach to store design and renovation. While we provide any service in our repertoire as a stand-alone offering, we truly shine when we bring our project management acumen to the party.
King Retail Systems had begun to work with Save a Lot retail partners in 2018, and about 100 licensee's stores had been converted in the course of the first two years. The Tampa Bay Save A Lot store conversions for Fresh Encounter began in early 2021. This was our first full project with the client.
When engaging us for the project, Needler's chief concerns were:
Minimizing disruption to the business
Meeting the aggressive timeline
Delivering on budget
Ensuring that any installers and subcontractors would meet the company's rigorous safety standards and adhere to local building codes.
An experienced operator, Needler knew the scale of the challenge being undertaken and wanted a "soup to nuts" project management solution.
"Even though we were working with Save A Lot, a large public company, approvals took just one or two days," reports Shaun Londahl, President of King Retail Solutions, "That's because, up front, we were extremely diligent about putting a clear approval process in place, acting as a facilitator between Save A Lot Corporate and the retail partners. We conducted regular weekly meetings, setting aside time to problem solve and discuss any issues that came up."
The client was assigned a KRS Client Services Team. This dedicated, cross-functional group was charged with managing the store renovations from inception to opening.
Begin at the Beginning: a 3D Site Survey
Because no two stores in the Tampa Bay group were exactly alike, the team needed to be responsive, creative, and nimble. This is always a factor in multi-unit grocery store renovation projects: there's just no way to "cookie-cutter" them.
Though KRS did not originally create Save A Lot's new store design, we steadily evolved key elements as we worked with the company's retail partners. By simplifying, streamlining, and value-engineering decor and fixtures, we ensured they would work for the large-scale rollout.
To ensure that the new decor program could be tailored to each store, the project began with a 3D site survey of the locations. The site survey captured in minute detail the architecture, mechanical elements, and every aspect of the store's interior and exterior.
This data was used to custom-fit the elements, helping to prevent surprises, delays, and rework in the installation process. The site surveys provided the ability to conduct virtual walk-throughs of the sites, enabling clear communication and expedited problem solving between the client, Save A Lot Corporate, and the KRS team.
It Takes a Village…or a Client Services Team
One of King Retail Solutions "secret weapons" on the Save A Lot project was our Client Services Team, an innovative structure which includes a dedicated Account Manager, Project Coordinator, Planner and Detailer.
The Account Manager served as the single point of contact for the client. Coordinating communication is essential in multi-unit projects. The sheer volume of information in and out is daunting, and it's easy for clients to get frustrated or overwhelmed if they're receiving calls and emails from a lot of different people.
The Project Coordinator ensures that the wide array of functions involved—including design, drafting, value-engineering, manufacturing, shipping, on-site installation—are carefully choreographed. The Project Coordinator worked with contractors, as "boots on the ground". Depending on the size and complexity of the job, we assigned multiple project coordinators for specific stores.
"Even when our clients choose to source fixtures from other vendors, our Project Coordinator still works hard to ensure that everything comes together, at the right time and in the right place," explains Farrah Potter, VP of Creative Services. "We're committed to a great outcome, regardless of the participants."
The Planner determined the correct process and materials for manufacturing, getting parts ready to send to production and ensuring that we knew how much the part would cost to make. The planner reviewed actual production times and material usages, and adjusted them for future orders. Our planners are crucial to the value-engineering process.
The Detailer drew schematics and ensured the conceptual design could be built to specification. They worked with our Planners to determine how to make something, using a drawing program to produce visual engineering drawings of the parts required.
Getting it Right the First Time: Drafting
Another unique capability of KRS is drafting. This enables us to take all the elements of a signage package and 'place' them in specific stores, to ensure that everything fits. Positioning an element is just as important as the design of the element itself. If a sign is too big, time and money are wasted producing a new one, or the design is compromised.
KRS provided drafting services on 125 of the 200 Save A Lot stores it helped convert, though Fresh Encounter handled its drafting in-house.
Supply Unchained: Nimble, U.S.-Based In-House Fabrication
Our ability to manufacture fixtures and decor elements in the US has always been a competitive advantage for KRS. But it became a game-changer in 2021, when supply chain issues caused delays in delivering fixtures purchased overseas. For a fast-moving project like the Save A Lot conversion, our ability to fabricate fixtures helped ensure that deadlines were met.
Because KRS manufactures in-house, we also have the ability to value-engineer designs, or use alternative approaches and materials. That capability is critical to containing costs.
"Our designers understand the importance of a positive customer experience," notes Potter. "They create great-looking store interiors, but it's always done with serious respect for the client's budget."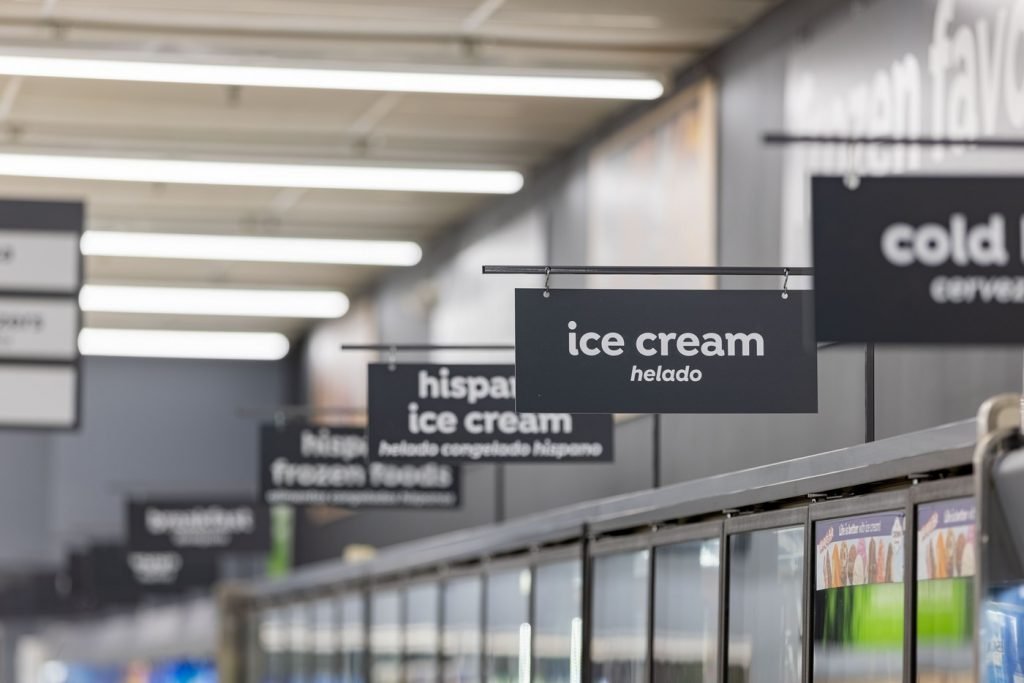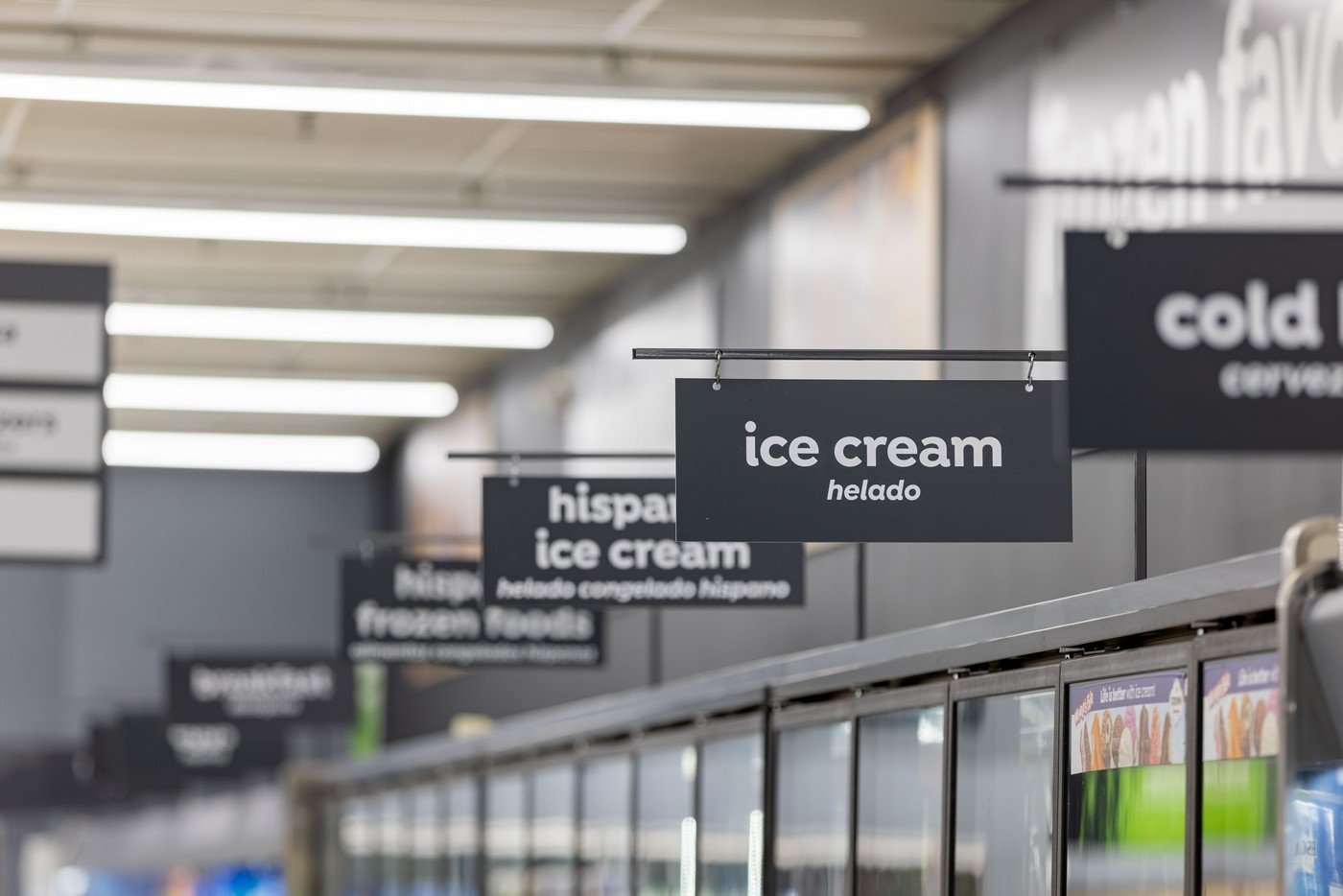 Where the Rubber Meets the Road: Decor Installation
Installation is the "last mile" of a project and critically important to get right. The groundwork was laid by our precise, highly detailed site surveys. Then a dedicated King Retail Solutions Project Manager, Tim Parker, moved to the Tampa area to take the project over the finish line.
Tim oversaw the work of our Certified Installers, experts in store installations, who can deploy anywhere in the US, another unique KRS capability. KRS Certified Crew Leads go through a two to three year process to earn that title.
"Sometimes clients are surprised by the idea of flying a Certified Crew Lead in to oversee installation—until they see the benefits for themselves. It's the proverbial 'ounce of prevention' that helps ensure a great outcome," says Parker. "Most general contractors don't have experience with store installation. It's a specialty. There's a learning curve, and the results are typically delays, cost overruns, and not-so-great results."
Because of the scale and speed of the Save A Lot rollout, Parker trained local Tampa crews in the KRS installation methodology.
"We think of ourselves as an extension of the client. We don't want to push anything back on them—we take the details and logistics off their plate," explains Parker. "Sometimes that means going the extra mile. That might be coordinating with a lighting design company, or bringing our crew back to do extra patch and paint—whatever it takes. We're a boots-on-the-ground, get-it-done company."
Delivering on Our Promises
The Tampa Bay Save A Lot store conversions rolled out on time and on budget.
"Most of the work was completed in six months, and they were right on schedule," reports Needler. "The only elements beyond schedule were ones out of their control, like refrigeration units delayed by supply chain problems, or exterior signs held up by local permitting."
"Stuff happens in any project," he says, "but KRS dealt with it."
Today, with the store conversion sprint complete, the Tampa Bay Save A Lot stores are doing exactly what Mike Needler envisioned—bringing customers easy-to-navigate neighborhood markets with friendly service and great values.
Concludes Needler, "KRS did what they said they were going to do."
Ready to take your store to the next level? Let's get started.