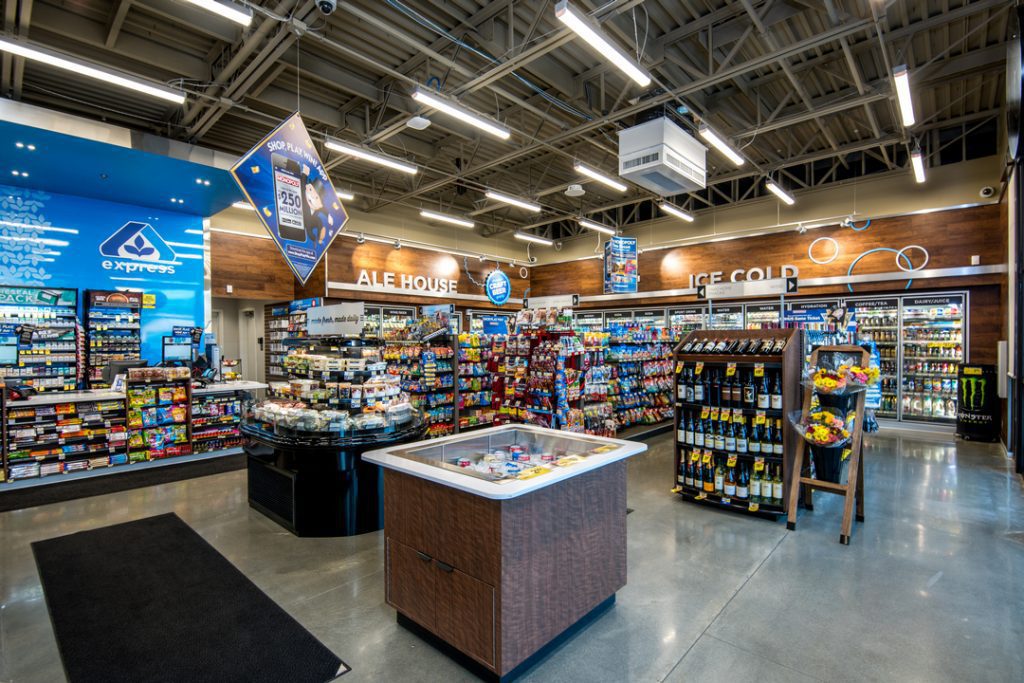 New c-store design trends have yielded upmarket convenience stores featuring organic and better-for-you options, artisan coffee, craft beer and kombucha on tap.
Though convenience stores were once the last place you'd find healthy or locally produced food, this rebellious breed of neo-convenience stores is on the move throughout the US, with products updated for discerning, health-conscious consumers on the go.
Like a traditional c-store design, the footprint of this new model is small enough for urban centers or gas stations. Some neo-convenience stores are large enough to include an on-site coffee bar, bakery, cafe, or grill. Nearly all offer appealing, healthy grab-and-go food. Along with organic produce and meat, artisan cheeses, premium wines, and better-for-you options, they stock errand staples like eggs, milk, toilet paper. And you'll find plenty of the most frequently purchased c-store item, beer. (Think craft brews, merchandised in beer caves.)
Most neo-convenience stores emphasize healthy ingredients and sustainability, which come with a higher price point. While some take a purist's approach, others aim for "crossover" appeal, stocking traditional c-store products as well. But while these upscale upstarts don't sell cigarettes, sugary beverages, and lottery tickets, they don't neglect that sacred c-store staple: snack foods. The Goods Mart motto is "snack good, feel good, do good." (The company is known for its guest-curated snack boxes, which benefit a variety of charitable and social causes.)
Because of their small size, virtually every indy c-store brand touts a "curated" inventory. For customers overwhelmed at the prospect of wading into a 70,000 square foot supermarket to pick up a few items, the small footprint has enormous appeal. Shoppers can get in and out quickly, with just what they need, but without sacrificing quality.
C-Stores that "Think Local"
Many founders cite mom-and-pop corner stores and neighborhood bodegas as inspiration. Foxtrot Delivery Markets call themselves the "next generation corner store" and identify walkable urban corridors for their locations, which perform double duty as markets and distribution centers for their delivery business.
Portland's Green Zebra serves "the 20-minute neighborhood" around its stores, improving access to healthy food for local shoppers. Its community-centric approach is the brainchild of its founder and CEO, natural food veteran Lisa Sedlar, the former President and CEO of New Seasons Market, an Oregon-based natural grocery store chain.
Neo-convenience stores often cite "local-first" criteria for the products that go on their shelves. They retail locally grown fresh produce and locally made foods. Some promote the products of marginalized groups or showcase local cottage food producers. Many have a give-back strategy to support local nonprofits.
C-store Design that Delivers Distinctive Customer Experiences
Traditional c-store interiors were designed to help customers find things fast and get on their way while maximizing impulse purchases; they resembled fast-food franchises. Neo-convenience stores use design to build their brands and tell stories. From store fixtures to signage to merchandising methods, most express a distinct point of view.
Denver-based Choice Market, which sells fuel, employs a simple aesthetic at its four locations. With sans-serif signage, subway tile, and functional fixtures, the stores' designs appeal to minimalism-loving Millennials.
Foxtrot Markets evoke the cozy, hang-out vibe of a coffeehouse. Store designs feature airy spaces, good-mood playlists, and furniture that encourages lingering–despite the fact that delivery accounts for half its revenues. The company is not afraid to experiment with formats; Foxtrot's Lincoln Park location is a hybrid corner store and ice cream shop that showcases Jeni's, a local-favorite brand.
Green Zebra store formats employ a warm, unpretentious aesthetic and earthy materials like wood and colorful ceramic tile to deliver a friendly and welcoming feel to its Portland neighborhoods.
The Other C-store Fuel: Coffee
An excellent coffee program attracts a daily following, and many neo-c-stores have taken a page from the specialty coffee shop industry. A popular offering is an in-store coffee bar, replete with free wi-fi.
Alltown Fresh touts its Swiss-made bean-to-cup machines, as well as its organic, fair trade coffee, single-origin coffees, and small-batch roasting. Tennessee c-store chain Twice Daily is making a move toward neo-convenience, rolling out a White Bison-branded specialty coffee bar with sleek, state-of-the-art Modbar under-counter machines.
Sheetz exhorts customers to "Ditch the Coffee Shop" and features hand-made espresso beverages created on Italian espresso machines, made in the store, to order.
Choice Markets feature a Method coffee bar. At The Goods Mart in New York, which describes itself as "a better-for-you, socially conscious neighborhood convenience store", the vision is to "make the store accessible to everyone by democratizing the products we carry." The store offers a $1.25 cup of gourmet coffee.
Niche to Mass Market
But the neo-convenience phenomenon is not limited to independent, boutique brands. Alltown Fresh is actually a new concept from Global Partners, a $12.6 billion public company that owns close to 300 c-stores, and owns or leases 1,600 gas stations. Its portfolio of traditional convenience store brands includes Xtra Mart, Honey Farms, T Bird, and Jiffy Mart.
Global Partners CEO Eric Slifka realized his healthy lifestyle and plant-based food choices were not available in the convenience sector, so the company developed a new concept. Alltown Fresh describes itself as a "chef-driven, handcrafted kitchen and local market." Though fresh food normally comprises just 10% of c-store sales, at Alltown Fresh it drives 75% of revenues. For the customer who dashes in for a soda and a bag of chips, standard packaged fare is still on offer.
Alltown Fresh stores are co-located with gas stations and designed to appeal to travelers and people on the move. Offerings include fresh blended smoothies, kombucha on tap, and fair trade specialty "bean to cup" coffee. The chef-driven menu caters to a wide range of dietary needs and includes many plant-based options. Healthy breakfast sandwiches and fresh salads are some of its most popular choices. Meal kits and catering are part of the lineup, expanding the definition of what makes a c-store "convenient." The company has rolled out over 70 stores, all on the East Coast.
800-store Wawa, which has an extensive restaurant program, is now augmenting it with healthier and premium offerings. Sheetz and Casey's offer fresh options along with made-to-order hot food and in-store dining. Chevron's Extra Mile has developed an updated store format that includes healthier options like kombucha and fresh grab-and-go selections.
Grocery brands are also entering the c-store space. Boise-based Albertsons has opened seven fuel-driven Albertsons Express markets with updated c-store offerings, including premium wines and a beer cave.
Grocery giant Hyvee has entered the c-store fray with Fast & Fresh. These stores have a larger footprint than most c-stores. The layout features traditional convenience products on the left; on the right is a dizzying array of fresh offerings.
Befitting its mission as a "mealtime solution store," there are abundant grab-and-go options, including chef-prepared meals from its in-house Commissary, meal kits, a "take and bake" section, and a "short cut" section with prepped ingredients. The company's Mia Pizza anchors the center rear of the store, offering freshly-baked, customizable 6-minute pizzas, with dough made each day in-store. Fast & Fresh locations are often co-located with a Starbucks, but the stores sell coffee too. And drawing on its core competency in the grocery sector, "Aisles on Line" enables customers to place online orders for groceries from Hyvee that are delivered to lockers inside the Fast & Fresh.
7-Eleven is poised to attract affluent, environmentally-conscious customers with the installation of 500 new charging stations for electric vehicles. The convenience store chain has developed a 6,000-square-foot concept called 7-Eleven Lab Store, which includes a Laredo Taco Company serving up freshly prepared salsas, carne guisada, carnitas, and even house-made tortillas. It also offers kombucha, cold-pressed juices and smoothies, and organic groceries.
No discussion of c-store disruption would be complete without the mention of Amazon Go c-stores. The company claims its small-footprint urban stores offer "true grab-and-go", thanks to Amazon's frictionless, cashierless Just Walk Out technology. There are 30 stores with locations open or announced in New York, Chicago, Seattle, San Francisco, and London.
The Future of Convenience
The neo-convenience sector is still a fertile zone for startups. Whether rural, suburban, or urban, most communities throughout the US are still without enough options for healthy, convenient food. Entrepreneurs with a unique vision can take advantage of the relatively small footprint of these stores to pilot unique concepts and roll them out quickly.
But one of the most intriguing opportunities lies in rethinking how fuel and food are combined as a retail offering. The immense "installed base" of existing convenience stores offers a remarkable opportunity to attract new, upscale customers–and improve the quality of life for the communities these brands serve.
Let's Get Started! Tell us about your retail project.