Selling products online once appeared to be the retail promised land.
Direct to Consumer (DTC) brands were thought to have an incredible advantage over those sold in brick and mortar stores. They didn't have to wholesale their products to resellers at 50% (or more) off retail price. They incurred less overhead from real estate and had lower payroll than physical stores. The cost of online advertising was low compared to traditional channels.
Better gross margins and lower overhead? It was good while it lasted.
Turns out, consumers still love—and rely on—retail stores. And following the shutdowns of the pandemic, consumers appreciate and enjoy shopping in physical stores more than ever. While the pandemic dramatically accelerated the adoption of online shopping, the vast majority of retail sales today still take place in brick and mortar stores.
According to Digital Commerce 360, in 2021, "offline sales accounted for more than three-quarters, or 80.7%, of the overall gains in retail spending, while ecommerce represented the remaining 19.3%."
Adding bricks and mortar retail has become a smart move for many DTC brands.
While the pandemic dramatically accelerated the adoption of online shopping, the vast majority of retail sales today still take place in brick and mortar stores.
An early DTC darling, eyeglass maker Warby Parker began in 2010 as an online-only retailer but opened its first retail showroom in 2013. The company went public in September 2021, and now operates close to 160 stores in North America.
Bricks and mortar religion has struck many other DTC all-stars, too. Fashion brands Untuckit, Everlane, and Allbirds, home goods sellers Boll & Branch, Casper, and Wayfair, and even the subscription-based razor company Harry's, have made physical retail stores a part of their growth strategy.
Here are the five key reasons that DTC brands venture into physical retail:
1. Online sales growth has slowed due to the skyrocketing cost of acquiring new customers.
Selling products directly to customers online has many advantages. It's easier than ever to start a DTC brand, thanks to user-friendly technology platforms like Shopify and Big Commerce. But it's harder than ever to grow these brands, thanks to the ever-increasing cost of customer acquisition (CAC).
The lower barriers to entry for an online business have invited more new brands and more competition. With more competition, companies must spend more money to market themselves.
The evolution of the trendy sportswear company Outdoor Voices provides a cautionary tale. A red-hot fitness brand that leveraged social media to grow sales to $40 million in just six years, they soon found their Customer Acquisition Cost unsustainable. To drive $3 million in monthly sales, the company was spending $2 million.
The glory days of organic online growth through social media are over. Today, social channels are saturated with advertising. Consumers feel exhausted and exploited by digital marketing tactics.
Apple took a big bite out of online marketing. The 2021 Apple iOS 14.5 update made it more difficult for DTC brands to track consumers online. It requires apps to comply with the App Tracking Transparency (ATT) framework, designed to safeguard user privacy.
Apple changed its mobile Identifier for Advertisers Users (IDFA) to one in which the user must grant permission to an app to enable it to track them. In addition, developers are asked why they wish to track users, via a "purpose string".
Because DTC brands rely on third-party data to acquire and retain customers and understand their shopping behaviors, brands now have a harder time understanding the ROI on iOS users' marketing spend. With iOS claiming over 57% of the US market, the impact is enormous.
2. A multi-sensory experience creates a stronger emotional connection for shoppers.
Traditional retailers have a major advantage over DTC brands sold online. An ecommerce store reduces shopping to a mostly visual medium comprising text, images and videos.
Shoppers inside physical stores can experience every sense: sight, sound, smell, touch, and even taste. With deeper sensory engagement, humans are more likely to remember an experience.
Research that shows customers are more likely to buy things they can touch. In 2009, Proctor & Gamble published a 21-year study that found customers will pay more for merchandise they can touch. Called "The Endowment Effect," this phenomenon showed customers felt a greater emotional connection to products they had held or touched.
Many products require a multi-sensory environment to tell their story and express their value. Only a brand with a physical presence can forge this important bond.
3. Online Shoppers Have Lower Commitment and Shorter Attention Spans Than In-Store Shoppers.
A shopper may say, "I'm just browsing," while in a physical store, but the plain fact is that they are physically there.
While shoppers do occasionally abandon shopping baskets or merchandise in physical stores, a staggering number of e-commerce transactions in online stores fail. This is in part due to the incredibly distracting, competitive, and often confusing world of online shopping.
With little to no social connection, shoppers also display less patience with an online customer journey than one in the real world. (While most of us have shouted at our computer, few of us have shouted at someone assisting us in a store.)
That cheery chatbot is a poor substitute for actual human connection.
Online shoppers face a number of potentially problematic touchpoints. Most of these are purely transactional: navigating a website, correctly selecting the right options (color, size, quantity) for a purchase, and applying discount codes. Two of the biggest reasons for abandoning online shopping carts: higher-than-expected shipping costs or a longer-than-expected wait for delivery.
According to Statistica, as of March 2021, 88.57% of fashion shopping carts were abandoned.
Once a shopper enters a physical store, the retailer has far more control over their customer experience and the messages that they receive. The multi-sensory platform of a well-designed bricks-and-mortar store offers endless opportunities to engage customers. And the opportunity for social connection is more powerful yet.
4. Omnichannel Retail is Becoming the New Normal.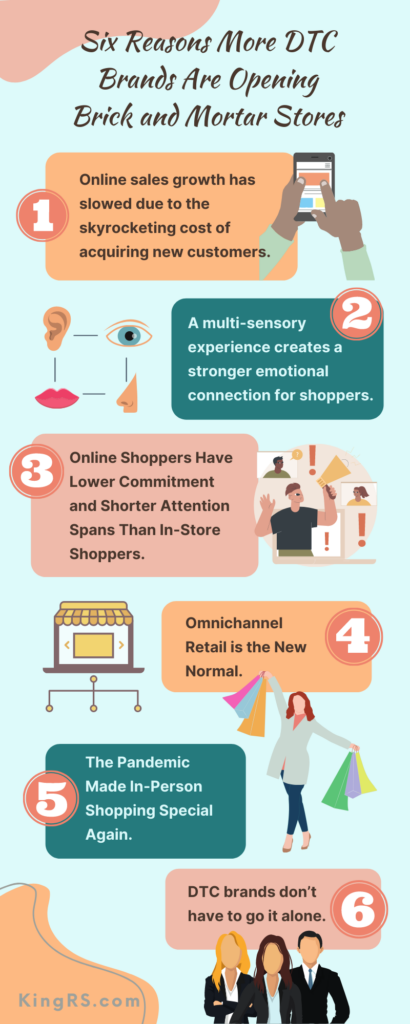 The question is no longer whether physical or online stores offer the best sales channel. The retail success stories of the future understand that it's not "either/or" but "everything/everywhere."
More than simply "showing up" in multiple sales channels, omnichannel retail offers the opportunity to build powerful synergies. It leverages the strengths of physical retail and customer relationship management (CRM) technologies, leaving no retail stone unturned.
Mulesoft, a company that provides integration software for connecting applications, data and devices, defines omnichannel retailing as "a seamless, continuous customer experience across any device or location a customer wishes to shop from, with a personalized brand experience, and the ability to get any item at any time, in every variety and permutation, at any price. With omnichannel retailing, the brand becomes not just about the in-store experience, website, or mobile shopping, but about every experience the customer has with that brand at every single touchpoint."
Whew.
Amazon's Clicks and Mortar Experiment. In 2022 Amazon will debut its first physical apparel store, Amazon Style in Glendale, California.
Amazon Style leverages machine learning, the company's formidable network of fulfillment centers, and its robust delivery capabilities. It promises "thoughtfully curated" ensembles to shoppers, styled by fashion influencers.
By using the Amazon app, the shopper can seamlessly blend their online shopping experience with an in-store, tech-enabled shopping experience.
According to the company, "Customers simply scan an item's QR code to see sizes, colors, overall customer ratings, and additional product details. With the tap of a button, shoppers can add the item to a fitting room or, if they don't need to try it on, send it directly to the pickup counter."
Shoppers arriving at an Amazon Style won't find a traditional clothing store full of racks and shelves holding merchandise—that's behind the scenes. Instead, the stores feature display items, curated as ensembles.
Omnichannel retail leverages the strengths of physical stores and customer relationship management (CRM) technologies, leaving no retail stone unturned.
Dressing rooms are pre-loaded with the customer's choices, as well as other suggested items to try. ("Customers who bought these jeans also bought…"). Amazon Style stores promise to bring "more looks and less clutter to in-store shopping".
By moving most merchandise off the shopping floor, Amazon Style can maximize its offerings while minimizing its most costly square footage.
Another major player in omnichannel marketing is Wayfair, which has built a portfolio of distinct home furnishings brands. Wayfair too is promising bricks and mortar locations.
5. The Pandemic Made In-Person Shopping Special Again
As the song says, "You don't know what you've got 'til it's gone". Pandemic lockdowns may have spurred meteoric growth in online shopping, but they also made us realize how much we missed bricks-and-mortar stores.
Retailers who create immersive experiences that stir emotional responses have a tremendous competitive edge. The hunter-gatherer in us still loves the thrill of discovering and immediately acquiring something unique. Online shopping decouples this gratifying behavioral "find/get" chain, reducing its emotional impact. (Even if Amazon drops it off two hours later!)
Activations are Essential. Distinctive and memorable experiences are the hallmark of successful brick and mortar stores. New and remodeled stores are being designed with events and activations in mind. Store designers specify fixtures and furnishings that can be moved and rearranged for parties, demonstrations, classes, and fashion shows, as well as VIP customer and Influencer events.
Not Your Mother's Bricks and Mortar. Retail design is evolving to accommodate shoppers' social media-fueled thirst for New, Different, and Insta-worthy. Pop-ups first appeared in the early 2000s, but they continue to offer DTC brands an affordable opportunity to experiment with new markets, products, and formats.
And pop-ups have grown up. An article in the Atlantic on corporate pop-ups notes that pop-ups give "a large number of customers the feeling that what they're getting is a distinct, limited-time-only experience that can't be replicated…pop-up retail tickles the part of one's brain that likes new things."
As the pop-up format matures from its scrappy entrepreneurial beginnings of banners, tables, and tents, retail design companies are meeting the need with sophisticated temporary environments that express the brand and create a unique and ultra-interactive customer experience.
Local Love. According to a recent study by Accenture, shoppers are willing to pay more to support local and small businesses. Many national brands "localize" their stores with a different merchandise mix or even decor. It's hard to be local when you're online-only.
6. DTC brands don't have to go it alone.
Moving from online sales into the real-world retail space requires that brands master a new business model. (Even Amazon didn't get this right; it's now closing its Books, 4-Star, and pop-up stores.)
Some DTC brands are going omnichannel by bringing their products into established retailers like Target, Nordstrom, and Walmart. Some brands have been able to establish a presence with a store-within-a-store strategy. Others are opening their own stores—or partnering with companies that can help them achieve a retail presence.
DTC brands adding bricks-and-mortar need scalable store design and fixturing options that grow with them.
"Retail as a Service". Spanning the online-to-physical knowledge gap are companies like Leap, which is facilitating omnichannel retail by opening stores for a group of hand-picked DTC brands. Founded in 2018 by Amish Tolia and Jared Golden, the company provides digital brands with the technology, expertise, and capital needed to open physical stores.
Leap's first launch was upscale sneaker brand Koio in 2018. Currently, the company operates dozens of stores that comprise an array of brands, most of them in upscale marketplaces, including New York, San Francisco, Chicago, Dallas, and Scottsdale. Leap is expected to grow to 250 units, across an array of brands, by the end of 2022.
In an interview with Women's Wear Daily, Tolia explained the Leap business model: "(We deliver) fully branded stores that we underwrite." Once Leap identifies a promising DTC brand, the company secures locations, negotiates leases, hires staff, and installs point-of-sale systems. The business model, after the store is up and operating, is a performance-driven fee based on sales.
Bringing the Real-World Vision to Fruition.
DTC brands need scalable store design and fixturing options that grow with them.
King Retail Solutions is an award-winning retail design company that works with stores throughout North America. The KRS menu of retail design and fixture fabrication services is flexible—a plus for young DTC brands.
Some brands have developed a complete store concept and simply need fixtures and decor elements fabricated. One such KRS project was a large fixture package for the bricks-and-mortar launch of sportswear brand ASRV.
Most DTC brands are started by visionary entrepreneurs, who are sometimes challenged to translate UX into CX. For them, a soup-to-nuts retail design solution is crucial.
Designing for growth. When a DTC brand starts a big physical store rollout, fixtures and decor elements that worked for its initial launch often require redesign. Retail concepts evolve as companies discover what works in the real world, and what customers respond to.
As well, fixtures may need to be re-engineered to ensure that they can be manufactured and installed on a large scale.
"Virtually any major rollout requires that fixtures and decor packages be value-engineered to meet the project budget," explains Shaun Londahl, President of KRS. "We provide solutions for retailers at any stage of their store development."
Beyond "User Engagement": Social-Emotional Shopping.
Technology will continue to provide new opportunities to sell goods and services. Retail will embrace the metaverse, and DTC brands will attempt to replicate an in-person shopping experience with virtual reality.
But as much as brands obsess about user experience and engagement, their efforts are not always rewarded. Consumers today readily confess that they're less loyal, and more demanding, than ever.
The social rewards of shopping in person are significant. Whether connecting with a friendly staff member, receiving personal advice from an expert, or sharing a shopping outing with a friend or family member, the social-emotional impact of a positive brick and mortar experience can be profound—and profoundly loyalty-building for DTC brands.
Is Your DTC Brand Ready to Go Brick & Mortar? We'd Love To Help You!