While the coronavirus pandemic has changed some aspects of retailing, grocery access remains essential. As shoppers try to limit the time they spend in crowded public spaces, they've turned to convenience stores to fill some of their needs.
With this in mind, c-store owners are rethinking their layouts and offerings to align with consumers' changing behaviors and desires. Read on for a breakdown of the best convenience store design strategies for competing in an ever-evolving market.
Convenience Store Design Trends for 2021 and Beyond
King Retail Solutions specializes in optimized convenience store layouts, fixtures, and concepts that combine the best of both grocery and c-store environments. Some of the most effective retail trends in c-store design include touchless shopping, curbside pickup, drive-thrus, elevated food offerings, and delivery services. Here's what you should know about adopting these ideas.
Touchless Shopping
Contactless services were a cornerstone of retailing in 2020. Touchless shopping experiences are a big part of this trend, and modern convenience store design is smart to embrace it. Adopting the strategy might involve motion-activated entrances, foot pulls for refrigerator doors, and contactless payment options, all of which KRS can help you design.
Curbside Pickup
C-stores have always filled in the gaps for grocery store offerings. However, as we mentioned, the current market has supermarkets competing with c-stores more than ever before.
In addition, many convenience stores are now offering curbside pickup to accommodate the needs of shoppers who may wish to remain outside. Whether for safety or convenience, consumers appreciate the option to purchase items online and pick them up without getting out of their cars.
Drive-Thru Services
Drive-thrus accounted for a striking 42% of all restaurant visits in 2020. Realizing drive-up windows don't have to be limited to fast food and pharmacy services, some c-stores are implementing the concept into their layouts.
Your convenient store drive-thru can include pickup services for online orders. Customers can also pull up and request grab-and-go items without ordering ahead. KRS is seasoned in convenience store design, and we can help you strategize and create a drive-thru to meet the needs of shoppers and encourage repeat visits.
Elevated Food Offerings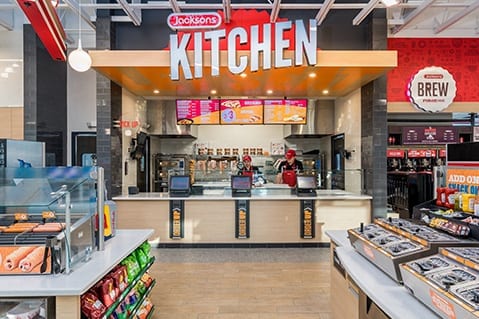 While some restaurants closed in 2020, the uncertainty surrounding the pandemic heightened the desire for comfort food. People cooked more at home, but it didn't erase the need for premade hot meals.
Aside from convenience and safety, this might have something to do with the uptick in drive-thru visits. C-stores have elevated their hot food offerings to meet increased demands for ready-made or ready-to-cook meals.
KRS has experience designing compelling convenience stores, supermarkets, and restaurants. Additionally, we're well-versed in blurring the lines between these categories. Our award-winning c-store concepts include optimized hot food sections, refrigerated offerings with meal kits and ready-to-bake foods, and connected eateries for a one-stop-shop experience.
Delivery
In 2021, consumers want convenience. Though curbside pickup and drive-thrus help meet this need, what's more convenient than having an order delivered right to your door?
In line with grocery stores and fast-food chains, many c-stores are introducing delivery services. Partnering with apps like GrubHub and UberEats is a great way to evolve with the changing market. KRS can help you design a store that accommodates both shoppers and delivery drivers for safe, convenient, and efficient fulfillment.
Optimized C-Store Design from King Retail Solutions
King Retail Solutions is proud to offer innovative C-store solutions that account for the continuously changing real-world needs of shoppers. Our experienced and knowledgeable team can help you meet your short- and long-term goals while adhering to your budget and driving sales.
Unlike many other convenience store design companies, we can assist with every step of your project. From conceptualization and design to manufacturing and installation, our services cover all components of your reimagined interior and exterior layout.
Contact KRS today to find out how we can optimize your c-store design.
Let's Get Started! Tell us about your project.