Despite fears of empty shelves and supply chain havoc, holiday retail sales in 2021 finished stronger than expected. Retail sales grew 8.5 percent over 2020, according to MasterCard Spending Pulse, which tracks online and in-store retail sales across every payment type.
Online sales grew 11 percent over the holiday period compared to last year, and were up 61.4 percent from 2019.
In-store sales surged 8.1 percent YOY, good news for many brick-and-mortar retail stores.
The embattled department store sector saw sales increase by a welcome 21.2 percent, as consumers embraced the long-denied pleasures of in-store shopping.
"Consumers splurged throughout the season, with apparel and department stores experiencing strong growth," noted Steve Sadove, senior advisor for MasterCard, and former CEO and Chairman of Saks Incorporated.
In addition to gift-buying, shoppers seemed to be replenishing their own wardrobes, too, after almost two years of stay-at-home athleisure. Apparel sales leaped an astonishing 47.3% compared to November 1-December 24, 2020.
That long-deferred desire to dress up also appeared to increase sales for "small box" stores, as holiday jewelry purchases increased by 32%.
Black Friday was Blah Friday for discount hunters
Black Friday remained the top sales day during the holiday season, with spending up by 14% over 2020. However, the dramatic discounts of past years were few and far between, as retailers retrenched in the face of rising costs.
The Washington Post reported that retailers have become more strategic about "the type of products they mark down, and by how much." It noted that the 2021 holiday season's discounts, which ranged from 5 percent to 25 percent, were markedly lower than the historical average of 10 percent to 30 percent.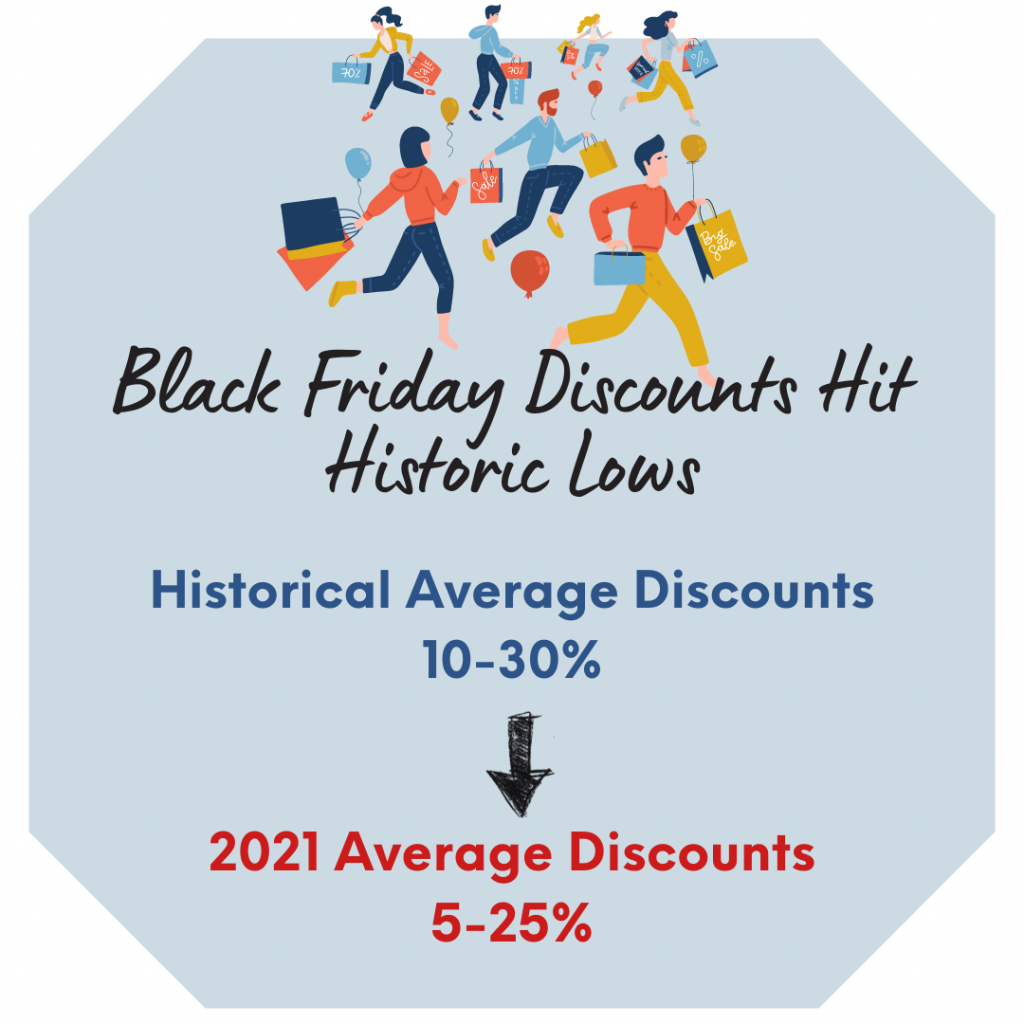 The WP noted that Macy's executives reported "promotions across the industry hit a 'historical low' in 2021", which doesn't bode well for bargain hunters hoping to score at after-Christmas sales.
The Supply Chain Grinch didn't steal Christmas
Concerns about gifts arriving on time prompted many consumers to shop earlier, a trend that began in 2020.
A Deloitte holiday retail survey published in October 2021, reported that 39% of consumers planned to start their shopping early. Nearly half of these anxious early birds were worried about delivery delays or shortages of desired items.
Their fears were well-founded. In December 2020, according to the New York Times, "service performance across the U.S. Postal Service plummeted to the lowest levels in years, with only about 64 percent of first-class mail delivered on time around Christmas."
In 2021, though, consumers, retailers, and delivery companies were prepared. Retailers ordered early; consumers shopped early; delivery companies staffed up and constructed new warehouses.
Business Insider reported that Amazon's pre-holiday strategy included chartering its own container ships and sending them to less congested ports, like Houston, Texas, and Everett, Washington. It also beefed up its air cargo fleet, Amazon Air, to 85 planes, and hired thousands of seasonal workers, offering signing bonuses of up to $3,000.
On the ground, operational changes included allowing Amazon delivery trucks to leave the warehouse half-empty instead of waiting additional hours to be completely filled.
The preparations paid off.
In 2021, even with online holiday sales at an all-time high, the U.S. Postal Service, FedEx, and UPS managed to deliver the goods mostly on time or with only minor delays—a few hours to a day late—according to ShipMatrix, a logistics software company. The New York Times reported that UPS and USPS delivered close to 99% of their packages on time between November 14 and December 11, 2021, with FedEx trailing at 97%.
The Grinch hit many low and middle income households—and grocery stores.
Another worrying trend: purchasing wasn't up across economic sectors. 65 percent of consumers with incomes of less than $50,000 per year told the Deloitte Holiday Retail Survey that they would not be doing any holiday shopping.
For middle-income shoppers making from $50,000-$99,000, the "holiday shopping opt-out" number was 23 percent. To put it in perspective, non-spending consumers went from 4.9 percent in 2020 to 11.5 percent in 2021, more than doubling.
When asked the question, "At which of the following types of retailers will you likely shop for holiday gifts (retailer in-store and websites)?" a striking number of respondents had taken grocery stores off their lists, with the number dropping from 26 percent in 2020 to just 19 percent in 2021.
Inflation inflated holiday sales numbers too
While higher sales came as welcome news for retailers, some of that sales increase was the result of inflation. Driven by a spike in energy costs, particularly gasoline, (up 49.6 percent) price increases impacted new and used vehicles and the grocery and apparel sectors as well.
The annual inflation rate in the US accelerated to 6.8 percent in November of 2021, a number not seen since June, 1982.
The Takeaway
Holiday retail sales in 2021 offer much to be encouraged by, especially for bricks-and-mortar retailers. Shoppers welcomed the opportunity to return to the fun and discovery of the in-store holiday shopping experience.
Yet those glittering numbers look a bit less sparkly when inflation and lower overall discounting are factored in.
The inability of many consumers to take part in any holiday shopping should concern retailers—it doesn't bode well for year-round discretionary purchasing, either.
How can companies better position themselves for the most profitable quarter of 2022?
Retailers in the grocery and convenience sector can invite shoppers to accumulate points through the year, incentivizing them to save those rewards for holiday redemption in a merchant-centered revival of the old-fashioned Christmas Club.
If retailers plan to hold the line on holiday discounting in 2022, investing in a better customer experience is critical. That means continuing the store renovation and remodels that began during Covid shutdowns.
Stores that hope to gain loyalty from customers first have to gain loyalty from their workforce. 2022 will see many retail brands investing in training and increasing compensation.
Ready to Set Some Retail Records of Your Own?
Let Us Know How We Can Help You!