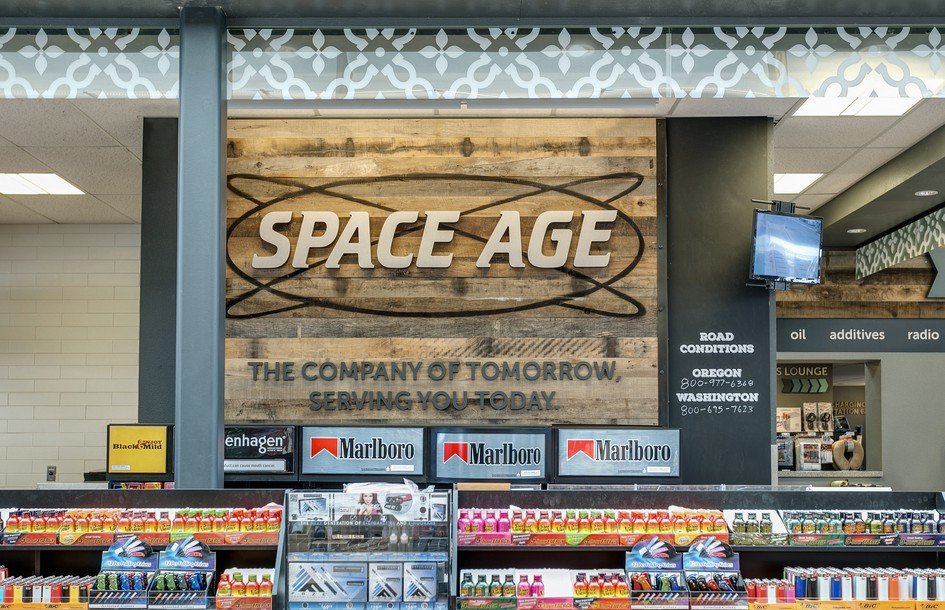 CSP magazine is a leading publication in the convenience and petroleum retailing industry. Since 2003 CSP magazine has ranked No. 1 in readership and market share over all other industry publications.
KRS is proud to be included in CSP's 25 Great C-Store Designs. Our design for Space Age Fuel's 2015 Prototype Store in Hermiston, OR is featured for its Contemporary Western design. KRS wanted to create a local feel to the store that would set it apart from the rest of the Space Age Fuel locations, all-the-while remaining consistent with their brand image. Quirky nods to the town's annual rodeo are present throughout the design such as the "cowboy," and "cowgirl" bathroom placards, and the horseshoe pattern above the checkstand.
President and CEO of Paragon Solutions, Mike Lawshe had this to say about the design:
"The company of tomorrow serving you today": What a great brand promise. Can the chain deliver? Well, it would appear that it did in this store design. The grand entrance welcomes you to a futuristic store. The bold contemporary design combines modern architecture with eclectic signage, modern lighting and reclaimed wood with printed graphics. The industrial touches combine with modern equipment and fixtures to present a space-age design that is new and old at the same time. My three favorite parts of this design are the cool light fixtures in the food area, the reclaimed wood graphics and the coffee program: Coffee Planet, offering "out-of-this-world" product. The chain has embraced both its name and its brand promise in this design.
We can help elevate your c-store design. Let's get started.