Attracting A Younger Male Demographic
Created by Chevron in the 1990s as a convenience store for their gas stations, ExtraMile stores are now operated as a joint venture between the fuel giant and Jacksons Food Stores. The chain has more than 800 locations in the western U.S. with about 500 of them operated by franchisees.
Following the formation of the JV (between Jackson's and Chevron USA) which formed EMCS LLC, the new management team recognized that changes in the c-store industry, including new sources of competition and evolving customer demographics were placing ExtraMile locations at a disadvantage. Research revealed that Chevron was losing some core customers who were shopping more often at competing, free-standing convenience stores.
King Retail Solutions was hired to redesign the stores in a way that would bring them up to date and better deliver on the brand's promise to its core customers in the younger male demographic.
The Five Brand Pillars:
To ensure a thorough understanding of the chain's background, KRS conducted onsite visits to multiple ExtraMile locations, being sure to include stores in each size category, and franchisee locations.

One of the findings was that the old design did not do a good job of either communicating or delivering on the chain's five brand pillars: Extra Efficiency, Extra Appreciation, Extra Value, Extra Effort, and Extra Convenience.
"From the first day of our engagement, we asked KRS to challenge us, and they did not disappoint. Our interior look was dated. Small, incremental change would have been easier, but it's not what our brand needed. The KRS team challenged us and was right there to help determine the solutions. The KRS team worked fast and efficiently, and I'm proud and our franchisees are excited with the new design."

PAUL CASADONT, PRESIDENT EXTRAMILE CS LLC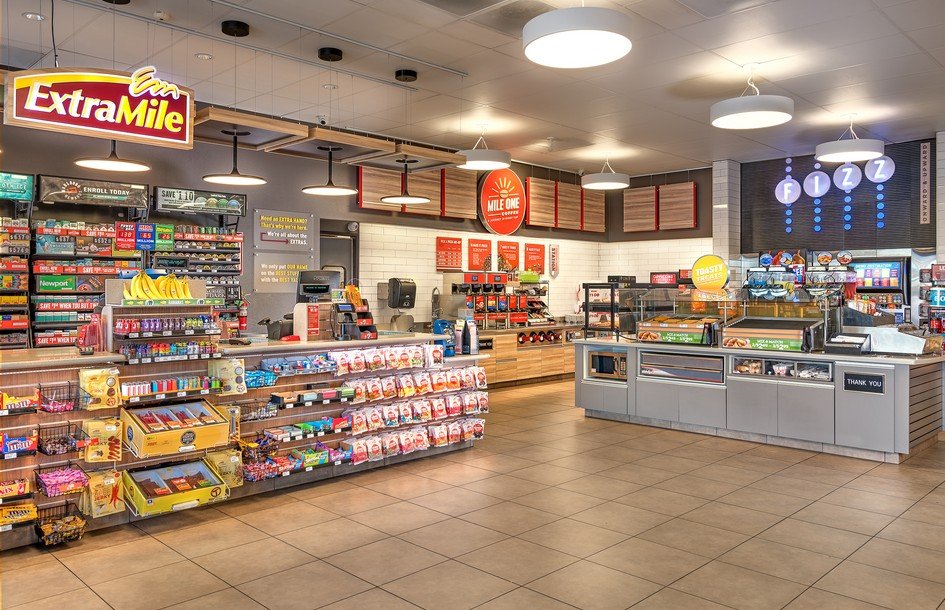 DELIVERING "EXTRA" TO CUSTOMERS
The goal of the new design was to clearly communicate to the person stepping through the door that they had entered a convenience store that was surprisingly well-stocked, easy to navigate, quick to check out of, with surprisingly good food and beverages.
Scalable Store Design
To shore up this last point, KRS worked with ExtraMile to create their own private label brand of premium coffees, which customers would dispense from an innovative coffee bar. The team created Mile One Coffee, including branding and graphics for each coffee variety.

Because nearly two thirds of ExtraMiles are operated by franchisees, the final store design had to be scalable, allowing owners to update their locations in stages. The 300 franchise locations were revamped all at the same time.
With a new look and updated merchandising, ExtraMile convenience stores have been able to increase visits from their core customers as well as attract a new younger, more ethnically diverse clientele that reflects the changing demographics of the west. Additionally, store employees have welcomed the new design, reporting that the updated setting has enabled them to better deliver the "extra" to customers.
Ready to take your store to the next level? Let's get started.